Emancipation:

The Unfinished Project of Liberation
On view during the 160th anniversary of the Emancipation Proclamation, Emancipation: The Unfinished Project of Liberation visualizes what freedom looks like for Black Americans today and the legacy of the Civil War in 2023 and beyond. Highlighting the perspectives of contemporary Black artists, Emancipation features commissioned and recent works by Sadie Barnette, Alfred Conteh, Maya Freelon, Hugh Hayden, Letitia Huckaby, Jeffrey Meris, and Sable Elyse Smith. The seven installations span sculpture, photography, and paper and textile fabrications.
---
Explore Emancipation from the comfort of your home with our virtual exhibition experience!
---
The artists responded to John Quincy Adams Ward's bronze sculpture The Freedman (1863) from the Carter's collection. Initially sculpted by Ward before the end of the Civil War, the figure is depicted on the cusp of liberation, having ruptured his bonds, though they are still present as a reminder of his enslavement. It is one of the first American depictions of a Black figure cast in bronze, and this specific cast from 1863 is the only copy of its kind with a key that releases a shackle from the figure's wrist. Supplemented by loans of Civil War materials that further enhance our understanding of past representations of Blackness, Emancipation demonstrates how historical art collections can serve as a resource and inspiration for contemporary artistic practices.
Slide Controls
Slides
Letitia Huckaby
Ms. Angela and the Baby, 2022
Pigment print on fabric with embroidery
Hugh Hayden
American Dream, 2023
Plastic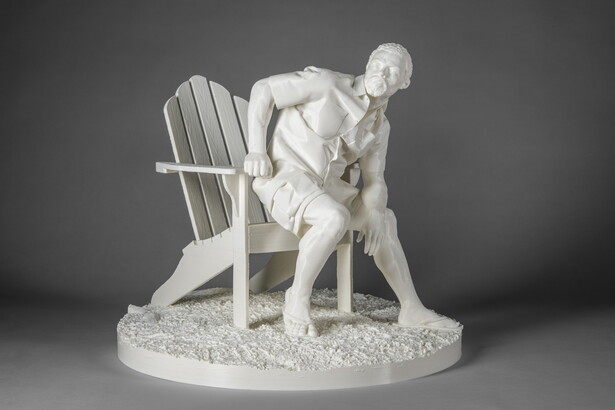 John Quincy Adams Ward
The Freedman, 1863
Bronze

2000.15
Maya Freelon
Fool Me Once …, 2023
Tissue quilts, ink, and adhesive
Alfred Conteh
Float, 2014
Mixed media
Sable Elyse Smith
Trappin I, 2022
Powder coated aluminum
Jeffrey Meris
The Block is Hot: The Resurrection, 2023
Plaster body cast, AC motor, steel, concrete-blocks, aircraft cable, U link, pulleys, ratchet strap
Sadie Barnette
FBI Drawings: Do Not Destroy, 2021
Powdered graphite on paper
Installation Photos
Click a button below to open in gallery. Activating any of the below buttons shows the installation photos gallery
In the Press
Interior Design

June 16, 2023
Fort Worth Black News

April 2023
The New York Times

April 27, 2023
NBCDFW.com

April 22, 2023
Dallas Morning News

April 6, 2023
Fort Worth Weekly

March 29, 2023
Fort Worth Magazine

March 16, 2023
Fort Worth Report

March 16, 2023
Fort Worth Weekly

March 14, 2023
New York Times T List

March 9, 2023
Interior Design Magazine

February 2023
Emancipation: The Unfinished Project of Liberation is organized by the Amon Carter Museum of American Art and Williams College Museum of Art. The exhibition is co-curated by Maggie Adler, Curator of Paintings, Sculpture, and Works on Paper at the Carter, and Maurita Poole, Executive Director of Newcomb Art Museum, Tulane University.
Funding for the living artists' installations is made possible by Sasha and Edward P. Bass. The Carter's presentation of Emancipation: The Unfinished Project of Liberation is supported by the Leo Potishman Foundation and the Alice L. Walton Foundation Temporary Exhibitions Endowment.