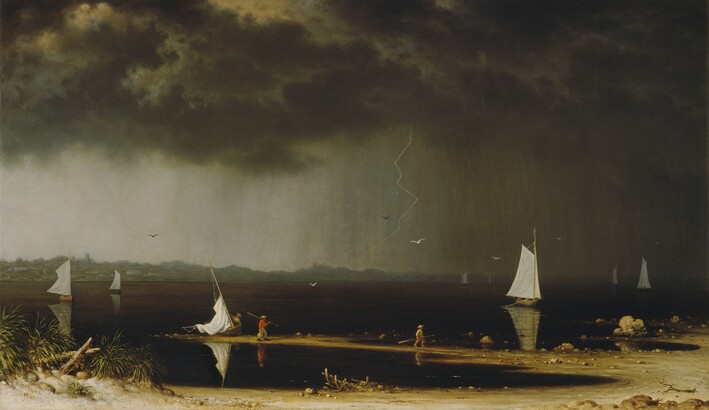 Thunder Storm on Narragansett Bay
Martin Johnson Heade (1819–1904)
Object Details
Date:

Date

Medium:

Medium

Dimensions:

Dimensions

Collection Name:

Collection Name

Credit Line:

Credit Line

Amon Carter Museum of American Art, Fort Worth, Texas

Accession Number:

Accession Number
Object Description
Heade was primarily a self-taught painter. Although he settled in New York in 1859 and befriended the popular landscape painters of the day, his work, such as this dark and threatening painting of the Rhode Island coast, shows that he was an artist of uncommon vision who did not follow mainstream trends. Enigmatic with its ominous black sky and sea juxtaposed with disquieting calm, this scene is beautiful in its color pattern. Nineteenth-century viewers—having come to admire Heade's light-filled studies of marshlands and the seacoast—simply did not know what to make of this darker work.
Educator Resources
Essential Questions
How do colors found in nature influence an artist's work?
How might artists portray mood or emotion in their work?
How might artists use weather/climate to convey a mood/feeling/emotion?
How are moods/emotions symbolic of an artist's work?
How do current events influence subject matter in art?
Suggested Activities (4th grade)
Imagine yourself in one of the far–away boats. List some verbs that tell about the things you are doing (rowing, bailing, watching, paddling, hoping, worrying, and yelling). List some adjectives that describe the sky and the water (dark, still, glassy, black, cloudy, scary, threatening, ominous).
Describe in complete sentences your experience in the boat. Be sure to include your five senses.
Imagine that you are one of the characters in this painting. Describe this experience from your point of view. Be sure to use your five senses.
Suggested Activities (5th grade)
Just as Martin Johnson Heade used symbols to represent American Identity during his lifetime, we are going to create symbols to represent the American Identity during your lifetime. Choose one of Heade's symbols from our discussion that you feel reflects American Identity today. You may use it exactly like Heade, or make changes. For example: If you choose clouds…What type of clouds will you represent? Why will you represent them in that way? If you choose a boat, is it broken or sailing freely? Draw your chosen symbol on your paper. Now, create two of your own symbols. Next to your symbols, explain what the symbol represents.
Tombstone Data
Image Credit
Amon Carter Museum of American Art, Fort Worth, Texas
Object Copyright