Wild Spaces, Open Seasons:
Hunting and Fishing in American Art
This is the first major exhibition to explore the multifaceted meanings of such outdoor subjects in both painting and sculpture from the early 19th century to World War II. These aesthetically rich and culturally important works play an influential role in the history of American art.
American artists' fascination with depicting hunting and fishing was often informed by their own experiences as practitioners and was more than merely a way of commemorating outdoor traditions. Approximately 60 paintings and sculptures—some of the finest examples of American art—illuminate changing ideas about place, national identity, community, wildlife, and the environment, offering compelling insights into socioeconomic issues and cultural concerns. Capturing a communion with nature that was becoming increasingly scarce, many artists alluded to the country's burgeoning industrialization and urbanization.
This exhibition encompasses a wide variety of portraits, landscapes, still lifes, and genre scenes, including iconic works by Thomas Cole, Thomas Eakins, Winslow Homer, and Augustus Saint-Gaudens, as well as key pictures by specialists in the category such as Charles Deas, Alfred Jacob Miller, William T. Ranney, and Arthur Fitzwilliam Tait. In addition, it sheds new light on modernist interpretations of these subjects by George Bellows and Marsden Hartley, among others.
Slide Controls
Slides
George Bellows
The Fisherman, 1917
Oil on canvas

2016.9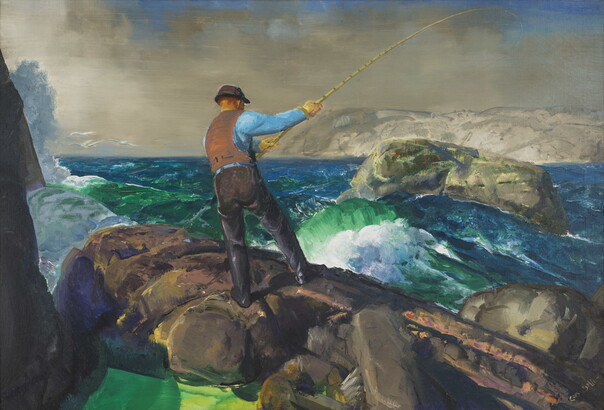 Winslow Homer
A Huntsman and Dogs, 1891
Oil on canvas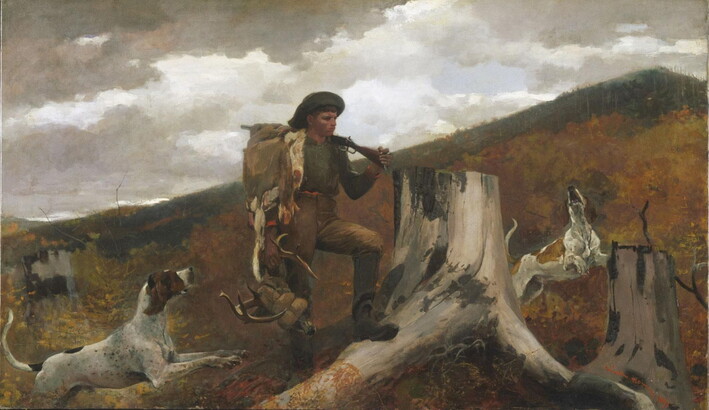 Charles M. Russell
The Buffalo Hunt [No. 39], 1919
Oil on canvas

1961.146
John George Brown
Claiming the Shot: After the Hunt in the Adirondacks, 1865
Oil on canvas
Albert Bierstadt
The Trappers, Lake Tahoe, ca. 1889
Oil on canvas
Thomas Eakins
Pushing for Rail, 1874
Oil on canvas
William Merritt Chase
The Pot Hunter (The Road through the Fields; The Hunter), ca. 1894
Oil on canvas
William Sidney Mount
Eel Spearing at Setauket, 1845
Oil on canvas
Arthur Fitzwilliam Tait
A Tight Fix – Bear Hunting, Early Winter [The Life of a Hunter: A Tight Fix], 1856
Oil on canvas
Alexander Pope
The Wild Swan, 1900
Oil on canvas
Installation Photos
Click a button below to open in gallery. Activating any of the below buttons shows the installation photos gallery
Wild Spaces, Open Seasons: Hunting and Fishing in American Art has been organized by the Amon Carter Museum of American Art, Dixon Gallery and Gardens, Joslyn Art Museum, and Shelburne Museum. This exhibition is supported by an indemnity from the Federal Council on the Arts and the Humanities. The local presentation is supported by BNSF Railway Foundation, Christie's, Collectors Covey, Fort Worth Promotion and Development Fund, Joan and Walker Friedman, Karen and Tim Hixon, Julie and Scott Kleberg, Kleinheinz Family Foundation for the Arts and Education, Luther King Capital Management, Beth and Ron Parrish, Martha M. and J. Kent Sweezey, and Wells Fargo.