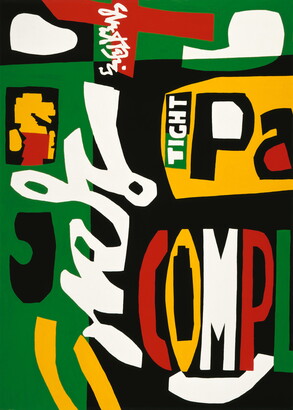 Blips and Ifs
Object Details
Recto:

signed u.c.: Stuart Davis

Verso:

u.c. on stetcher: GAL-A

c. stretcher: BLIPS & IFS STUART DAVIS 1963-64

Amon Carter Museum of American Art, Fort Worth, Texas, In memory of John de Menil, Trustee, Amon Carter Museum of American Art, 1961-1969

© Estate of Stuart Davis / Licensed by VAGA at Artists Rights Society (ARS), NY
Object Description
Davis transformed aspects of everyday life in this complex abstraction, one of his last great paintings. The title—which refers to the "blips" on a radar screen and the "ifs" of radar's intermediate frequencies—suggests the artist was thinking of movement and beats as he painted the composition. The work's large scale, bright palette, and subject matter allude to billboard advertisements. The contemporary slang terms "Pa" (pad) and "Tight," the letters "Compl" (complete), and the artist's signature at the top all become powerful pictorial elements. Depicted in vibrant green, red, yellow, and white (colors often seen in ads of the era), these motifs lie flat against a black background yet reverberate in space.
Educator Resources
What roles can text play in works of art?

In what ways has music influenced, and been influenced by, art?

How might abstraction offer an advantage to an artist in capturing the essence of a place or scene?

Grades Pre-K–3

Ask students to think of a place that is special to them. How might they depict this place in an abstract style? What elements of this place are most important? What shapes, lines, and colors make up this place? Students will make a sketch of the composition using any drawing implement. Geometric stickers or felt shapes are also helpful in giving students a place to begin.

Grades 4–12

Ask students to think about the city, town, or community they call home. What shapes, colors, or words might they use in an artwork to represent it? The students will draw a representation of this place using shapes, colors, and/or words in the style of Stuart Davis. Older students can make the project more complex through the incorporation of musical elements.
Amon Carter Disclaimer
This information is published from the Carter's collection database. Updates and additions based on research and imaging activities are ongoing. The images, titles, and inscriptions are products of their time and are presented here as documentation, not as a reflection of the Carter's values. If you have corrections or additional information about this object please email us to help us improve our records.
Every effort has been made to accurately determine the rights status of works and their images. Please email us if you have further information on the rights status of a work contrary or in addition to the information in our records.