From Remington to O'Keeffe: The Carter's Greatest Hits
Since its opening in January 1961, the Amon Carter Museum of American Art has acquired one of the world's finest collections of American paintings, photographs, sculpture, and works on paper. Key selections from the collection—from epic landscape and western paintings, elegant still lifes, and singular representations of war and exploration, to unparalleled modernist sculptures and abstractions—are featured in an exciting presentation that reveals the singularity of the Amon Carter collection.
Slide Controls
Slides
George Bellows
The Fisherman, 1917
Oil on canvas

2016.9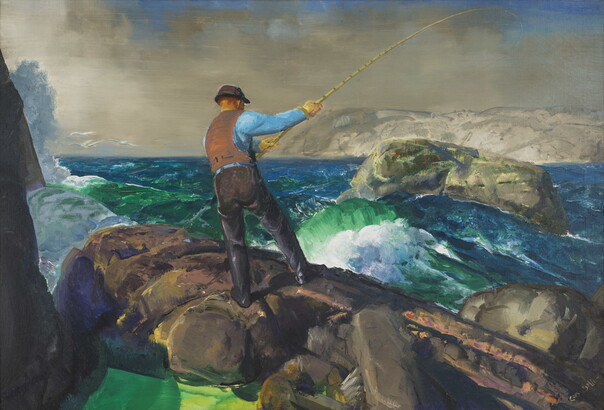 Frederic Remington
The Broncho Buster, 1909
Bronze

1961.4
Grant Wood
Parson Weems' Fable, 1939
Oil on canvas

1970.43
Thomas Eakins
Swimming, 1885
Oil on canvas

1990.19.1
Augustus Saint-Gaudens
Diana, ca. 1894
Cement and plaster

1981.67
Frederic Remington
A Dash for the Timber, 1889
Oil on canvas

1961.381
To rejuvenate the presentation of our collection, we are in the process of renovating our galleries. Updates to the flooring, lighting, and wall configurations will provide a richer experience of the collection and will better serve our visitors. During the renovation, From Remington to O'Keeffe: The Carter's Greatest Hits, on view in the front galleries, features highlights from the permanent collection, including paintings, photographs, and sculptures, by some of America's most renowned artists. George Bellows, Stuart Davis, Thomas Eakins, Winslow Homer, William Henry Jackson, Georgia O'Keeffe, and Augustus Saint-Gaudens are a few of the artists represented. Key examples from their careers alongside works by other preeminent artists reveal the vast expanse of American creativity dating from the 1820s to the 1960s.
Installation Photos
Click a button below to open in gallery. Activating any of the below buttons shows the installation photos gallery