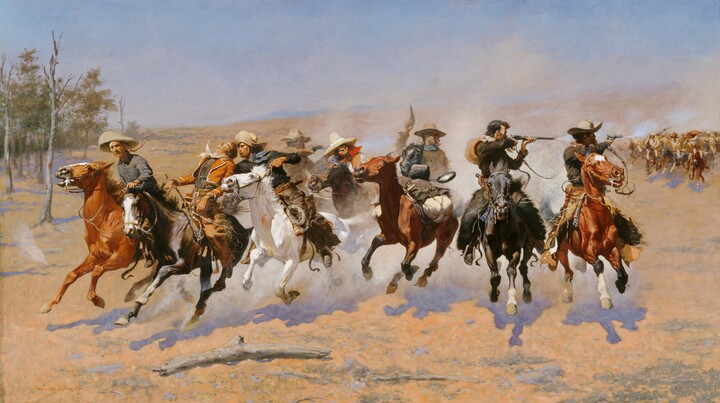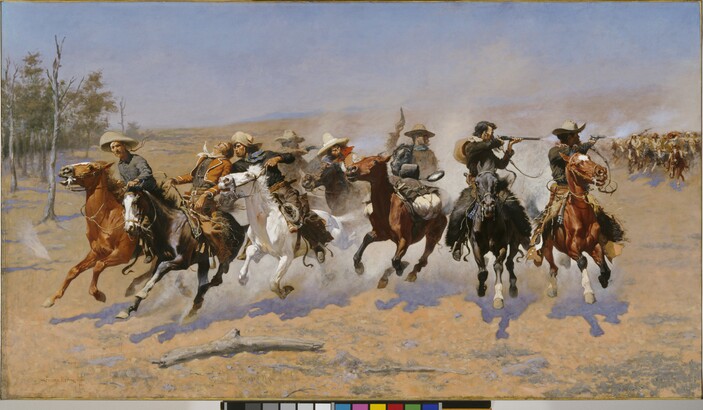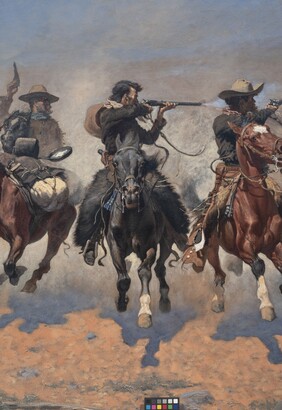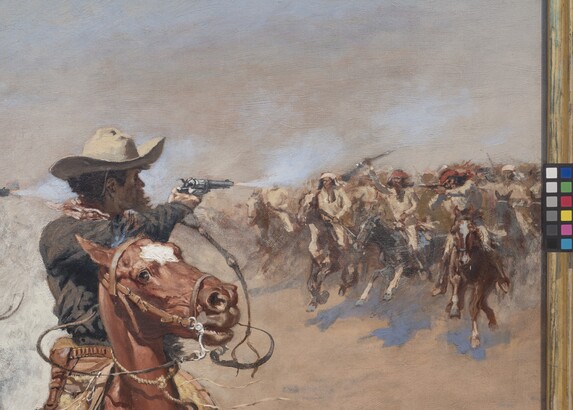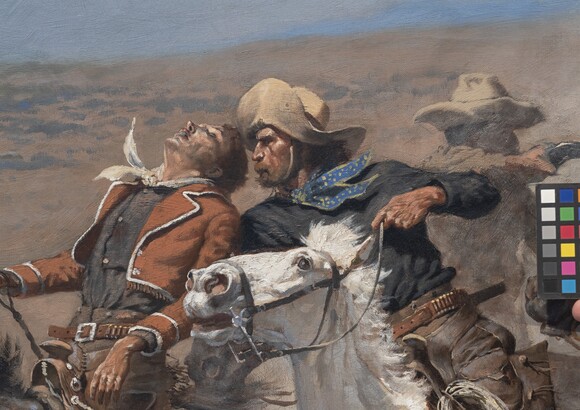 A Dash for the Timber
Frederic Remington (1861-1909)
Object Details
Recto:

signed and dated l.l.: Frederic Remington \ 1889

signed and dated l.l. below existing signature: Frederic Re[illeg.] [illeg.]89

Verso:

label fragment on [removed] frame: AME[RICA]N ART ASSOCIAT[ION] \ 6 EA[ST] 23D STREET, M[AD]ISON SQUARE SOUTH, [torn] \ NEW [Y]ORK. \ S[torn] \ [torn] \ Artist o[torn] [torn] er_______ \ Addres[s] ________ \ Return ________ \ [E]xhibition 188[torn].

Amon G. Carter Collection

Amon Carter Museum of American Art, Fort Worth, Texas, Amon G. Carter Collection
Object Description
Between 1885 and 1888, Remington made several trips to the Southwest to document the Apache Wars. He was deeply influenced by the stark landscape there and filled his sketchbooks with color notes and observations about the special quality of the light.
Back in his studio in 1889, he wrote a friend to say he needed a few pairs of chaps sent to him for source material because he was working on this painting—"a big cowboy picture"—which launched his career when it received favorable critical attention. The overall effect of the composition is truly cinematic, and the action-filled portrayal of the struggle of life anticipates the many western films that were to follow a generation later.
Educator Resources
What tools do artists use to convey motion and tension in a work of art? Which of those tools do you think is most successful?

What role does setting play in a narrative painting?

How do artists convey the effects of light in a landscape? What impact does an artist's use of light and shadow have on the way the audience views figures and objects?

What role do stereotypes play in an audience's understanding of works of art?

Grades Pre-K–3

Students will explore motion in art by using only lines to draw the movements seen in the painting (wavy lines for gallop, forward slash for leaning, spiral for turning cowboy, etc.).

Grades 3–5

Students will explore the beginning, middle, and end in narratives. They will imagine they are one of the people in this painting. Using carefully chosen words, they should describe their adventurous day to a friend.

Grades 3–8

Show a photograph of Fredric Remington and drawings he made of horses. What is important about the horses in this painting? Share motion studies (or a flipbook) of horses by Eadweard Muybridge.

On 2-by-12 inch paper, students can create a series of drawings depicting movement.
Amon Carter Disclaimer
This information is published from the Carter's collection database. Updates and additions based on research and imaging activities are ongoing. The images, titles, and inscriptions are products of their time and are presented here as documentation, not as a reflection of the Carter's values. If you have corrections or additional information about this object please email us to help us improve our records.
Every effort has been made to accurately determine the rights status of works and their images. Please email us if you have further information on the rights status of a work contrary or in addition to the information in our records.