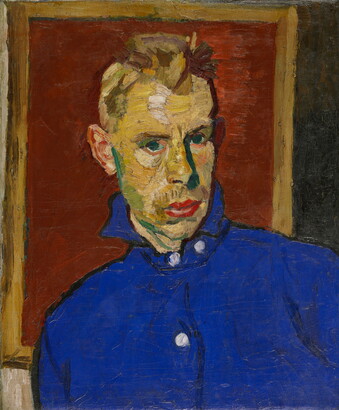 Self-Portrait
Object Details
Verso:

dated u.l., in paint: TIOGA, PA. 1919

signed and titled u.r., in paint: STUART \ DAVIS \ SELF PORTRAIT

u.l., gummed label, in ink: 740109 Kennedy Galleries \ w/ frame[sic.] Self Portrait [underlined] \ Davis

Amon Carter Museum of American Art, Fort Worth, Texas

© Estate of Stuart Davis / Licensed by VAGA at Artists Rights Society (ARS), NY
Growing up in an artistic household in the late 1800s and early 1900s, it is no surprise that Philadelphia-born artist Stuart Davis pursued a career as an artist at a young age. After seeing European art at the 1913 the Armory Show in New York City, Davis began to experiment with modern styles and bolder color palettes, as seen in this oil painting, Self-Portrait.

Here, Davis depicts himself from the chest up, gazing out to the right. His head and shoulders are framed within a painted off-center, gold frame on the roughly 22-by-18-inch canvas, which immediately draws your attention to his face. There is a light source from out of frame on the left side. Three-fourths of his narrow face is visible, making most of his left cheek and ear muted or nearly impossible to see. Davis painted thick and thin yellow and gold dashes to portray his short hairstyle. He used lighter, yellow brushstrokes on his face. He has thin, dark eyebrows above his dark circular pupils. His eyes are almond shaped, indicated by peach-colored lines. His has a pointy, skinny nose, and only his left nostril is visible because of the shadow cast. Beneath his nosed are his closed, red lips and his small, round chin.

Davis wears a deep blue shirt that doesn't have as many of the aggressive brushstrokes seen in other parts of the artwork. The collar is popped around his neck, and the shirt is fastened with two white buttons down the center. An additional white button is on the right side of his neck, under the popped color. Messy, black lines outline the shirt with a vertical line down the center of it, close to the buttons.

The painted, gold frame is left of center and butts up to the top left corner of the canvas. Davis filled the inside of the frame and around his head with a crimson red, with obvious, lighter red brushstrokes on the right side of his head. There is a sense of humor with a framed portrait inside a framed portrait. A thick, black, vertical strip stretches down the right side of the canvas next to the frame and ends at Davis's shoulder. There is a small rectangle of tan on the bottom left corner, outside of the painted frame and next to his arm.
Educator Resources
Why might an artist create a self-portrait?

How do artists incorporate their identity into their artwork?

How have the purpose, media, and style of self-portraits changed and/or stayed the same throughout time?

How are artists' self-portraits influenced by each other?

All Levels

Provide a demonstration on how to create portraits. Students can practice eyes, noses, mouths, heads, etc., or practice drawing a complete portrait.

Grades 1–3

Portraits (Recorded)

Explore several examples of American portraiture and, alongside Museum educators, discuss the ways that portraits allow subjects, artists, and viewers to communicate important information about individuals and their identities.

Learn more and register by visiting Connect2Texas and filter for "Amon Carter Museum of American Art." If you have questions, contact us by email or call 817.989.5011.
Amon Carter Disclaimer
This information is published from the Carter's collection database. Updates and additions based on research and imaging activities are ongoing. The images, titles, and inscriptions are products of their time and are presented here as documentation, not as a reflection of the Carter's values. If you have corrections or additional information about this object please email us to help us improve our records.
Every effort has been made to accurately determine the rights status of works and their images. Please email us if you have further information on the rights status of a work contrary or in addition to the information in our records.