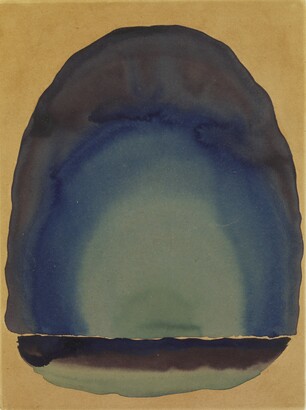 Light Coming on the Plains No. III
Georgia O'Keeffe (1887–1986)
Object Details
Watercolor on newsprint paper

Amon Carter Museum of American Art, Fort Worth, Texas
Object Description
While teaching at West Texas State Normal College in Canyon, Texas, during the summer of 1917, O'Keeffe created these abstract impressions of the sun rising over the wide-open Texas plains. The works reflect her bold individuality at a time when women artists struggled to attain recognition, considered unequal to their male counterparts. O'Keeffe stayed up all night to experience dawn when the effects of light were the most transitory and ephemeral. In these watercolors, she spontaneously layered deep ultramarine pigment on paper, allowing the fluidity of the medium to form the final design.
Educator Resources
Essential Questions
How do artists create light in their artworks?
Why might an artist choose to paint the same subject multiple times?
Why might artists limit their color palettes?
What advantages does painting with watercolor paints provide? What disadvantages?
What geographical features should be highlighted in paintings portraying the American plains or other regions of the United States?
Tombstone Data
Object Copyright