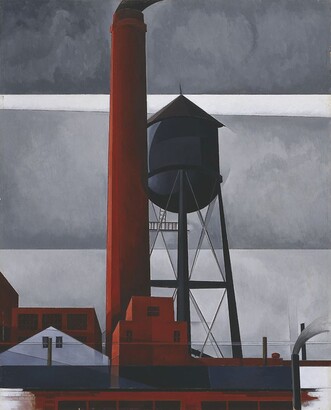 Chimney and Water Tower
Charles Demuth (1883–1935)
Object Details
Date:

Date

Medium:

Medium

Dimensions:

Dimensions

Collection Name:

Collection Name

Credit Line:

Credit Line

Amon Carter Museum of American Art, Fort Worth, Texas

Accession Number:

Accession Number
Object Description
Wanting to create quintessentially American art, Demuth chose as his subjects the modern industrial sites in his hometown of Lancaster, Pennsylvania. The Armstrong Cork Company, the nation's leading producer of linoleum in the 1930s, is the subject of this painting. Rather than depicting the sprawling factory, the artist focused on the austere smokestack and water tower rising above the plant, turning these seemingly mundane features into monumental forms. He accentuates their grandeur by painting them in contrasting colors of deep red and steel gray. His idyllic vision of the company reflected his belief that America's industrial endeavors defined its democracy, ingenuity, and uniqueness.
Educator Resources
Essential Questions
What buildings are important in a community? How might the answer to that question differ depending upon who is answering?
Is there beauty in utilitarian objects?
Why might an artist choose to paint something from an unexpected vantage point?
Why might an artist choose to paint in a precise and geometric style?
Suggested Activities (any grade)
The artist was also inspired by the modern art movement that was developing during his lifetime.  He like other artists of the modern art movement chose unconventional, or nontraditional, subjects and perspectives. To paint factories, such as the one featured in this painting, and to raise the line of sight above street level were unusual artistic choices. Ask students to sketch a building from your community, but to sketch it from a nontraditional viewpoint. Will they look at the building from above? Below? Will they highlight a special detail of the building? Will they include the whole building or only a part? Feel free to provide a straight edge so that students can mimic Demuth's precisionist style.
Tombstone Data
Image Credit
Amon Carter Museum of American Art, Fort Worth, Texas
Object Copyright