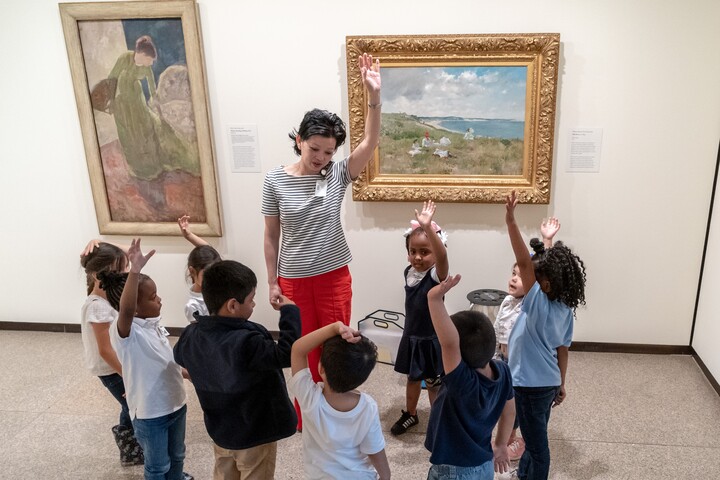 Regardless of what discipline or grade level you teach, the Carter has opportunities for you and your students to discover new viewpoints, make meaningful connections, and respond creatively to works of art.
Discover ways to make cross-curricular connections at the museum, online, or through the museum's distance learning program. To stay up to date about upcoming opportunities and offerings, sign up for our "Tailored for Teachers" newsletter.
Bring Your Students to the Carter
Always free for K-12 students and their chaperones.
Join us for a tour
Self-guided tours: For professors, teachers, and facilitators who want to lead their own groups through a museum experience. These tours are free for students and chaperones, but reservations are required.
Guided tours: Discover the galleries with one of our Gallery Teachers, who utilize question-based teaching strategies to engage students in discussions about the works of art. We can also modify our tours to create something custom for your group, including AP curriculum (American Literature, Art History, Human Geography, Psychology, Spanish Language, U.S History, and more). 
To reserve either of these tour options, please fill out this form or call us at 817.989.5036 at least three weeks in advance of your desired date.
Homeschool at the Carter
Create museum connections for your homeschool students by attending one of the Carter's quarterly homeschool programs. Explore the galleries with museum educators, get an up-close look at special exhibitions, and create your own artwork inspired by what's on view. See the program page for upcoming events.
Professional Development
Educator Workshops
Looking for innovative ways to energize your classroom? Join us for an educator workshop at the Carter and view masterworks of American art, learn from local artists and museum educators, and take resources, images, and new ideas back to your classroom. See the program page for upcoming events.
Faculty Training
Come to the Carter for your next faculty in-service or waiver day. Professional educators tailor the training to faculty needs, incorporating visual arts, language arts, social studies, and other disciplines. Faculty training requires a nominal fee. For more information or to schedule a session, email or call 817.989.5032.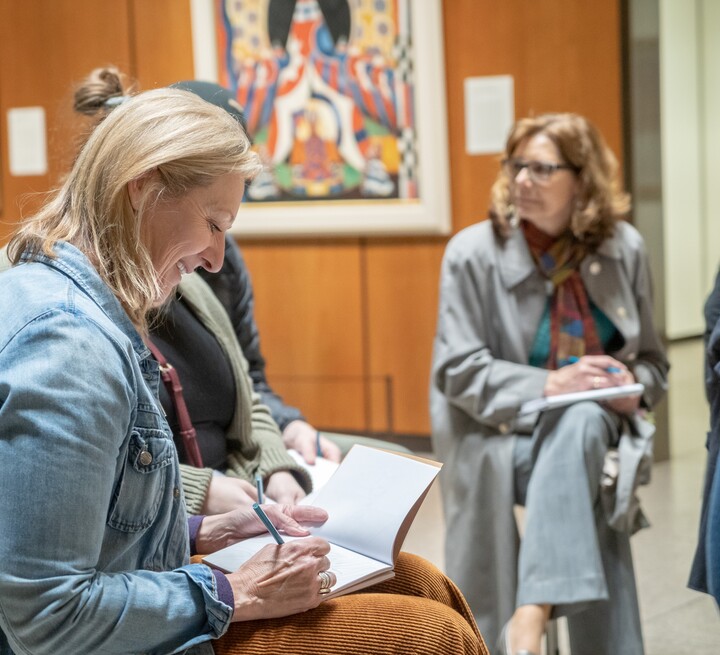 Use the Carter in Your Classroom
Can't visit us? Let's connect virtually! Check out our collection online to find images, resources, and media you can use in your classroom. 
Distance Learning
The Carter offers a variety of interdisciplinary, interactive distance learning programs that bring the museum to your classroom. Explore the collection with a museum educator leading discussions and activities related to art, culture, history, language arts, and science.  Learn more and register by visiting Connect2Texas and filtering by "Amon Carter Museum of American Art." If you have questions, contact us at distancelearning@cartermuseum.org or 817.989.5011.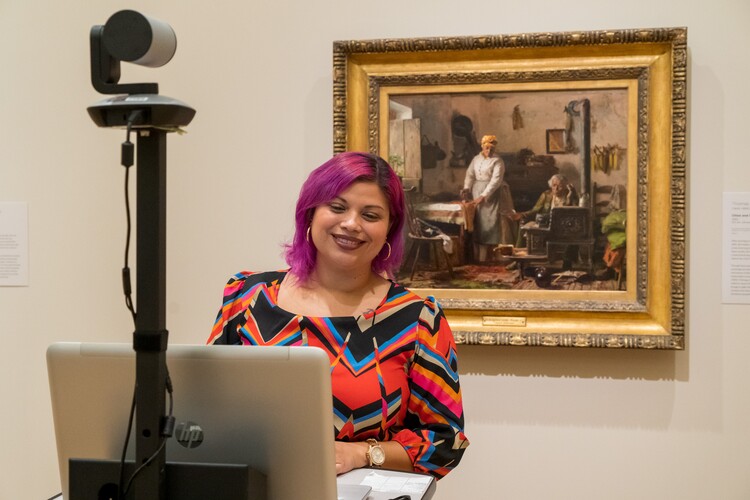 Distance Learning Classes
We also offer monthly specials that highlight history months, holidays and the seasons.
Investigate ways artists have used scientific observation to represent the world around them. Through close looking, data collection, and hypothesizing, students will describe, identify, and classify creatures and their habitats as depicted by American artists.

Identify elements of figurative language and flex creative writing muscles while reading and establishing connections between classic poems and American art.

Discover works of art by artists who immigrated to the United States. Learn about their stories and how the experience of immigrating influenced their art.

Visit the museum virtually and learn how artists use math, science, and engineering as creative fuel for their process.

Examine artworks and explore how artists incorporate science, technology, engineering and math concepts and processes into their artwork.

From opera to modern dance, activate the senses while discovering a range of artists inspired by the culture, beats, melodies, and rhythms of America.

Learn about the exciting careers of museum professionals, while getting a peek at the inner workings of the Carter. This program is not live. Recording available upon registration.