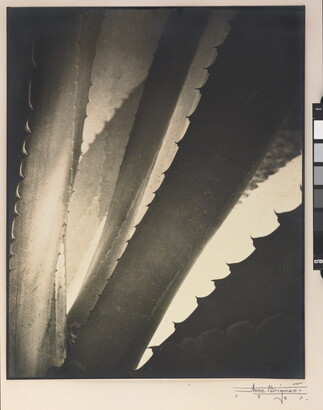 Flame
Object Details
Image: 9 5/8 x 7 11/16 in.
Mount: 18 1/4 x 15 in.

Mount Recto:

l.r. signed and dated in graphite: Anne Brigman- \ 1927-

Mount Verso:

u.l. in ink: Anne Brigman \ 683 Brockhurst St. \ Oakland Cal.

u.c. in ink: -Flame-

l.l. in graphite: HK5.15

l.r. in graphite: $800.

Amon Carter Museum of American Art, Fort Worth, Texas
Object Description
For most of her career, Brigman photographed in a pictorialist style, with soft-focus images, gentle tonal gradations, and hand-alteration of the negatives. Her best-known works are evocative images of women in natural landscapes on the California coast. But by 1927, she had started to experiment with the modernist style that had gained dominance in the artistic circles where she lived in San Francisco, spearheaded by a younger generation of photographers that included Ansel Adams, Imogen Cunningham, and Edward Weston. In this close-up image of an agave plant, Brigman used extreme cropping to emphasize the patterns in its forms and to construct an abstract composition. Light delineates the individual stalks, throwing the spiny edges into sharp relief, and the metaphorical title inscribed on the verso transforms a prickly plant into a hot fire.
—Text taken from the Carter Handbook (2023)
Amon Carter Disclaimer
This information is published from the Carter's collection database. Updates and additions based on research and imaging activities are ongoing. The images, titles, and inscriptions are products of their time and are presented here as documentation, not as a reflection of the Carter's values. If you have corrections or additional information about this object please email us to help us improve our records.
Every effort has been made to accurately determine the rights status of works and their images. Please email us if you have further information on the rights status of a work contrary or in addition to the information in our records.