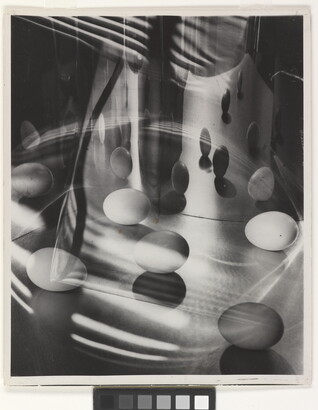 Eggs Encircled
Carlotta Corpron (1901-1988)
Object Details
Image: 9 9/16 x 7 13/16 in.
Sheet: 10 x 8 3/16 in.

Verso:

signed and titled, c.c. in graphite: Carlotta M. Corpron Eggs Encircled

u.l. in graphite: Eggs Encircled

u.r. printed paper label: THE ART INSTITUTE OF CHICAGO \ Chicago 3, Illinois \ ARTIST Carlotta Corpron [typed] \ TITLE "Eggs Encircled" [typed] \ MEDIUM/EXHIBITION Abstract Photographs by Car- [typed] \ lotta Corpron [typed] \ DATE [remainder of label is missing]

c.c rubber stamp: PETER POLLACK \ PUBLIC RELATIONS COUNSEL \ ART INSTITUTE OF CHICAGO

c.c. rubber stamp: KINDLY RETURN PHOTOGRAPH AFTER USE

c.c. in crayon: 2 col \ Thurs pm soc sub \ [illegible] & Smith

l.l. in graphite: 53. \ 7170/3m \ 47-7/8 \ DB276

l.r. rubber stamp: Carlotta M. Corpron \ Denton, Texas

Amon Carter Museum of American Art, Fort Worth, Texas, Gift of the artist

© 1988 Amon Carter Museum of American Art
Educator Resources
How do developments in technology influence art?

What artistic choices does a photographer make when creating an image?

What role does experimentation play in the creative process?

What is creativity, and what is its importance for an individual? A culture?

Can you tell how this work of art was made just by looking at it?

Describe the photograph. What objects do you see? Are they still or moving?

What choices has the artist made in the way she photographed this scene? How do you think she was able to achieve the feeling of movement in the image?

If you were standing inside this photo, what might you hear?

If you could add color to this photograph, what colors would you add?

What questions would you ask the artist?

All Levels

Use a pencil or black marker to sketch the photograph. Try adding two colors using markers or colored pencils. How does the addition of color change the work of art? Add two more. How does the addition of still more color change the work of art? Add two more.
Amon Carter Disclaimer
This information is published from the Carter's collection database. Updates and additions based on research and imaging activities are ongoing. The images, titles, and inscriptions are products of their time and are presented here as documentation, not as a reflection of the Carter's values. If you have corrections or additional information about this object please email us to help us improve our records.
Every effort has been made to accurately determine the rights status of works and their images. Please email us if you have further information on the rights status of a work contrary or in addition to the information in our records.