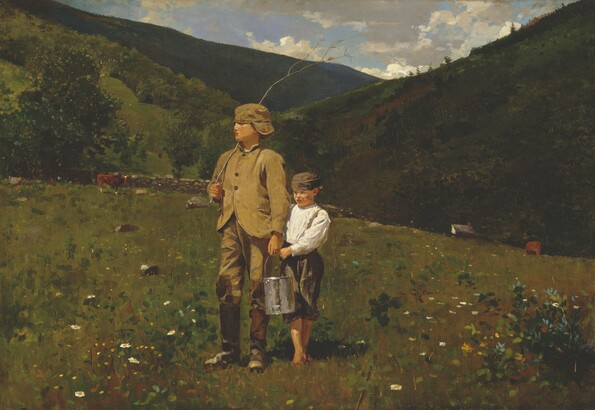 Crossing the Pasture
Winslow Homer (1836–1910)
Object Details
Amon Carter Museum of American Art, Fort Worth, Texas
Object Description
Homer initially earned his living as a Civil War correspondent, witnessing the horrors of battle. After the war, the public desired pictures and stories of simple rural childhood as a break from scenes of violence.
Crossing the Pasture was probably inspired by this appetite for nostalgia, but it is also a reflection of the artist's memories of his youth with his brothers. The wholesome country boys are an idealization of brotherhood, the older one standing protectively between the alert bull and his younger sibling. The smaller boy's bare feet symbolize closeness to nature, making him appear more innocent. Standing together against the verdant hills, the boys serve as redemptive symbols of hope for the country's united future after a war that had pitted brother against brother.
Educator Resources
Essential Questions
How might environment affect the way in which someone grows up?
How has childhood (and the place of childhood in the national imagination) changed throughout American history?
How might an artist communicate mood in a painting?
How might art help people to process difficult personal or cultural moments?
Suggested Activities (pre-K–1st grade)
Students will create a country scene on a card using green color sticks and texture plates. First, have students create a textured field on their paper. After they have the ground, they can use colored pencils to add details like an animal, other plants, or maybe a group of people completing a task.
Suggested Activities (4th grade and up)
Students can practice writing inspired by this work of art. Students should imagine that the subjects of the artwork stepped out of the painting into our world today. Students can write about what they would say to subjects in the artwork.
Tombstone Data
Object Copyright