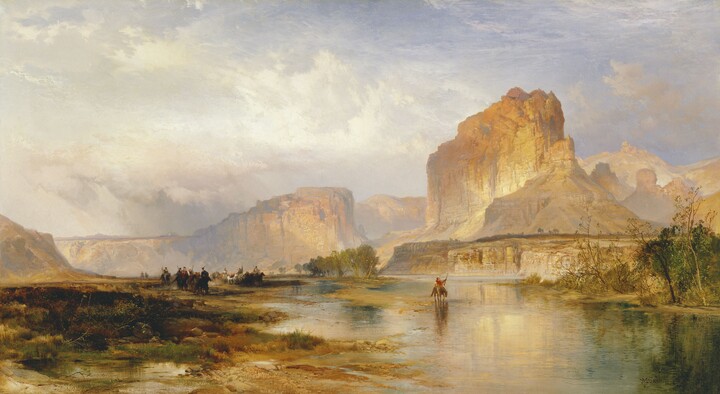 Cliffs of Green River
Thomas Moran (1837–1926)
Object Details
Date:

Date

Medium:

Medium

Dimensions:

Dimensions

Collection Name:

Collection Name

Credit Line:

Credit Line

Amon Carter Museum of American Art, Fort Worth, Texas

Accession Number:

Accession Number
Object Description
In 1871, Moran accompanied a U.S. Geological Survey expedition to explore Yellowstone, a vast region still largely unknown to the outside world. On his way to join that expedition, he traveled along the Green River, where the multicolored, sedimentary bluffs that rise along its banks fascinated him.
These towering landmarks became one of the artist's favorite subjects, repeated in more than forty canvases over the next thirty years. Green River, already transformed into a major rail crossroads by the time Moran first visited there, always remained in his mind's eye a landscape untouched by time, visited only by a few adventuresome trailblazers.
Educator Resources
Essential Questions
What sensory details might an artist provide to convey the experience of a landscape?
What artistic choices does an artist make in painting the land?
How might an artist romanticize a landscape and what are the purposes behind such romanticization?
How might a work of art contribute to the preservation of land or the environment?
Suggested Activities (K–3rd grade)
Have students imagine taking a trip in 1874. On a horse cut out, students may either sketch what they would see while traveling; what activities they may participate in while traveling or at their final destination; who they might see; or a reason why they are traveling.
Suggested Activities (4th–6th grade)
Ask students to write a description of this painting for someone who has never seen it. They should pay special attention to the colors and details that the artist captured. Encourage students to imagine that they have just arrived in this place for the first time. What would they explore while there?
Suggested Activities (4th–8th grade)
Allow students to sketch their school or the area around it before it was completed. What would the setting look like without the playground, before the track field was added, or the gym was built?
Have students write a letter home from the perspective of one of the figures in Cliffs of Green River. Be sure that they describe the setting as if seeing it for the first time. Students should also include information about how they imagine the land being used, or not used, in the future.
Tombstone Data
Image Credit
Amon Carter Museum of American Art, Fort Worth, Texas
Object Copyright