July 19, 2017

Amon Carter Museum of American Art Presents Third Annual Party on the Porch on September 23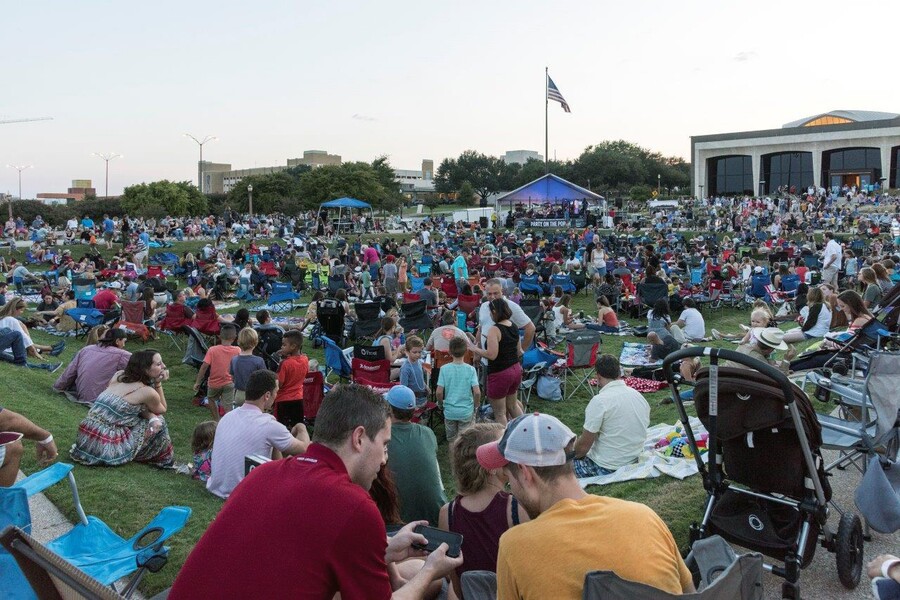 Fort Worth, TX, July 19, 2017—Party on the Porch returns to the Amon Carter Museum of American Art for the third year on Saturday, September 23 from 6 to 10 p.m. with more sound, more food, and more Fort Worth! The community is invited to attend this free event with art, live music, food trucks, and cash bars.
Outside on the plaza, party-goers can listen to three exciting bands with local roots—Green River Ordinance, Matt Tedder Trio, and Summer Dean—dive in to Fort Worth's delicious food-truck fare, and purchase beer and wine. Guests may also preorder Central Market Picnic Packs by calling 817.377.9307; the food baskets will be at Central Market's onsite store for pick up, as well as an assortment of food and beverages for purchase.
The porch will light up throughout the evening with special effects provided by Inside Image Design. Pan Ector is back by popular demand with their Fort Worth-themed T-shirts that are screenprinted onsite.
The live music kicks off at 6:30 p.m. with the self-styled "AmeriTonk" sound of the soulful country artist Summer Dean. She is followed by the Matt Tedder Trio, whose music blends classic rock, blues, and modern folk. Headlining Party on the Porch is Green River Ordinance with their grounded sound of country, rock, pop, and folk. Last year the band released their third studio album Fifteen.
"The first two years of Party on the Porch were so much fun, and we could not be happier to be back again with this event for Fort Worth on September 23," says Andrew Walker, executive director of the Amon Carter. "The combination of live music, food, art and community can't be beat."
Extended gallery and Museum Store hours (until 9 p.m.) allow guests to enjoy the artwork inside and have time to shop. Docents will be on hand giving tours for those who prefer a guided art experience; artmaking will also be offered.
Free parking is available at the UNT Health Science Center lot and east garage on Clifton Street (north of the museum). For more information about Party on the Porch, parking and accessibility, call 817.989.5030 or email visitors@cartermuseum.org. Visit the museum's website and follow Facebook, Twitter and Instagram for updates. The Amon Carter will close at 5 p.m. and reopen for Party on the Porch at 6 p.m. Will Rogers Road will be closed between Lancaster Avenue and Camp Bowie Boulevard from 8 a.m. to 10 p.m. on the day of the event. Please no pets or outside food or drink.
Presenting sponsors are: Baylor Scott & White All Saints Medical Center–Fort Worth, Central Market and Meador Auto Group. Media sponsor is Fort Worth Weekly.
About Green River Ordinance
In 2016, Green River Ordinance released its third studio album, Fifteen, an 11-track collection with a simple message—hold fast to the things that are true. Since coming together 15 years ago as teenagers in Fort Worth, the band—Josh Jenkins (lead vocals, acoustic guitar), Jamey Ice (guitars, banjo, mandolin), Joshua Wilkerson (guitars, vocals, mandolin, piano), Geoff Ice (bass, vocals, harmonica) and Denton Hunker (drums, percussion)—has been about the core value of "finding something more," rather than simply selling records, and the idea of a deeper meaning has remained their central focus ever since. "Throughout the entirety of Fifteen, Green River Ordinance's harmonies are spot on whether it's the gritty and rollicking 'Maybe It's Time (Gravity)' or the sweeping 'Simple Life' alongside soaring pedal steel and piano accompaniment," writes Annie Reuter with Sounds Like Nashville. "The album showcases Green River Ordinance's pop sensibilities and rock influences alongside vivid country storytelling."
Source: Shore Fire Media
About Matt Tedder Trio
Matt Tedder was born and raised in Fort Worth. From a young age he had his hands on a guitar, and by 14 he had assembled a band and started playing locally and internationally. After a 2016 run on the popular television show The Voice, he now is a local favorite with a distinct style of songwriting that some say is reminiscent of artists such as Jackson Browne, Tom Waits, and Tom Petty. With drummer Matt Mabe and Kris Luther on bass, Tedder won Best Blues/Soul Band and Vocal Performance at the 2017 Fort Worth Weekly Music Awards after thousands of fans cast their votes. His old-soul style of classic rock, blues and modern folk radiates when he is on stage. "If there's a name that should be on your radar, it's the Fort Worth-based blues artist Matt Tedder, whose masterful style pegged him as a guitar prodigy at the age of 10," according to KXT 91.7 FM.
Sources: Fort Worth Weekly and Reverbnation
About Summer Dean
Summer Dean is authentic as they come with a distinctly thoughtful approach to writing music, raw lyrics, a bare-boned and honest voice, and an approachable confidence. She released her debut EP album Unladylike in 2016 and plays numerous venues around Texas, while working to establish a firm-foothold in the thriving music scene of Fort Worth. "Once you've heard her faintly twangy voice — it's nearly impossible to forget," the Star-Telegram wrote last year.
Source: summerdeanmusic.wordpress.com