July 12, 2019

The Amon Carter Museum of American Art Celebrates its Grand Reopening with Fifth Annual Party on the Porch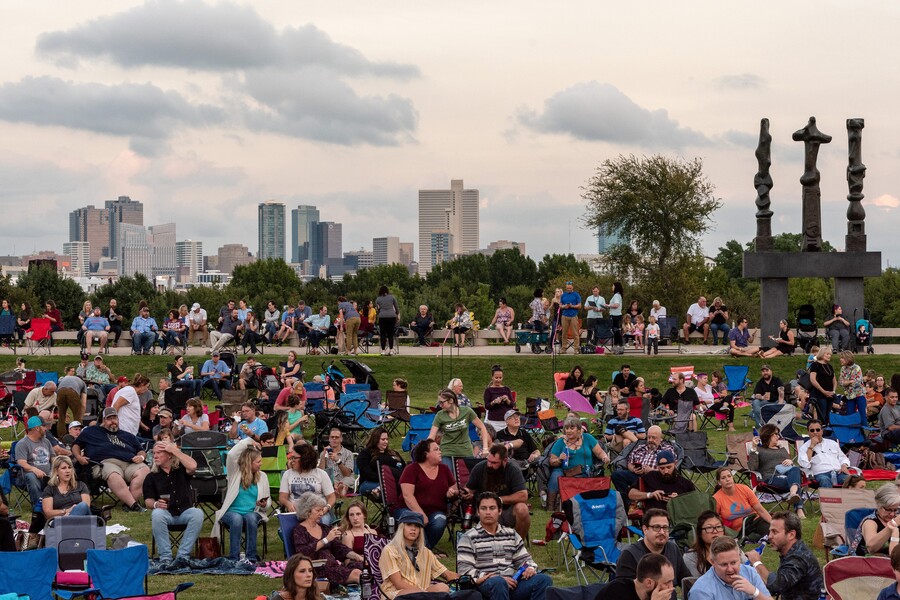 The Carter's Free Outdoor Art and Concert Festival will Be Held on Saturday, September 14 from 10 a.m. to 10 p.m. Featuring The Band of Heathens and Abraham Alexander
Fort Worth, TX, July 12, 2019—Party on the Porch, the Amon Carter Museum of American Art's annual music and arts festival, returns for another year to celebrate the reopening of the recently renovated museum during a day filled with live music, art, activities, and more. This free event will be an all-day experience from 10 a.m. to 10 p.m. with art-making, extended gallery hours, and live music on Saturday, September 14. Play all day and party all night at the new Carter!
Partygoers will be able to enjoy the musical stylings of local Texas groups The Band of Heathens and Fort Worth musician Abraham Alexander. Following the success of their sixth studio album and Ray Charles tribute, A Message From the People Revisited, The Band of Heathens will perform at the Carter for an unforgettable night. Local Fort Worth musician Abraham Alexander will kick off the festivities at 7 p.m. playing music from his debut self-titled EP (out September 2 on Mahogany Records) for a music-filled night followed by The Band of Heathens at 8:30 p.m.
The day begins at 10 a.m. on September 14 as the Carter opens its doors to the public for the first time since completing renovation to the galleries. Throughout the day, a variety of free creative experiences will be offered including exploring our new galleries, connecting with the Carter's collection through hands-on activities, finding treasures on tours of the library and archives, and dropping by the new interactive Family Pop-up Space in The Lounge. Additional event highlights include the opportunity to work with Carter Community Artists to produce a large artwork created through visitor contributions; creating a zine inspired by Let's Talk at the Carter, a collaborative zine between the museum, children from the Fort Worth community, and Make Art with Purpose (MAP); and the chance to make an artwork in the same style as artist Justin Favela, whose work commissioned by the Carter debuts at Party on the Porch. The full twelve hour Party on the Porch schedule is listed below.
Five exhibitions, in addition to the new permanent collection galleries, will open to the public at 10 a.m. Visitors will be able to view works from the pioneering African American photographer Gordon Parks in the nationally touring Gordon Parks: The New Tide, Early Work 1940–1950, explore the detailed illustrations of birds by Scott and Stuart Gentling, and reacquaint themselves with the Carter's permanent collection. Museumgoers will be able to interact with Camille Utterback's Untitled 5 to turn motion into part of a digital work of art in Set in Motion: Camille Utterback and Art That Moves, or pose in front of Justin Favela's vibrant Puente Nuevo, inspired by the Carter collection and constructed from the same material used to make piñatas.
There will be a wide array of local food trucks with dining and beverage options available for purchase. Carter members will receive access to a VIP area with free drinks and lite bites throughout the evening. Not a member? Join today!
Free parking is available at the UNT Health Science Center lot and east garage on Clifton Street (north of the museum). For more information about Party on the Porch, parking, and accessibility, call 817.989.5030 or email info@cartermuseum.org. Visit the museum's website and follow the museum's Facebook, Twitter, and Instagram for updates. The Carter will be open from 10 a.m. to 10 p.m. Will Rogers Road will be closed between Lancaster Avenue and Camp Bowie Boulevard from 8 a.m. to 10 p.m. on the day of the event. Please no outside food or drink.
Presenting Sponsor: Meador Auto Group. Sponsor: Meta Alice Keith Bratten Foundation.
Party on the Porch Schedule Highlights
September 14, 10 a.m.–10 p.m.
For a full list of events, visit new.cartermuseum.org
ARTivity Totes
10 a.m.–noon
Check out a new way to DIY in the galleries through exploration and fun.
Reading Room and Study Room Open House
10 a.m.–7 p.m.
Join us for a tour of the library and archives and see rarely seen treasures — from rare, beautifully illustrated books to centuries-old maps.
Art Discovery Guides
10 a.m.–9 p.m.
Pick up a guide to lead you and your peeps through an adventure in our galleries based on themes or favorite artworks.
Family Pop-up Space in The Lounge
10 a.m.–2 p.m.
Drop in, hang out, dress up, and get creative in our new interactive space. Guided Tours 11 a.m.–4 p.m. Join us each hour to learn about our collection. A different theme every hour! Carter Museum Mysteries (11 a.m.–noon); High Noon at the Carter Corral (Noon–1 p.m.); Let's Get Three Dimensional (1–2 p.m.); What's Love Got to Do with It? (2–3 p.m.); You Say You Want a Revolution (6–7 p.m.)
Food Trucks
12:30–10 p.m.
Grab a bite to eat from local food trucks and enjoy a picnic on the museum lawn. Food and drinks will be available for purchase. A smaller selection of food trucks will be onsite from 11 a.m.–6:00 p.m.
Art Carts
1–5 p.m.
Want to make a new friend? Join us each hour for a hands-on activity designed to get to know a select work of art. Louise Nevelson (1–2 p.m.); Severin Roesen (2–3 p.m.); Portraits (3–4 p.m.); Cowboys (4–5 p.m.) Make Your Own Faux-vela 2–6 p.m. Create an artwork inspired by Justin Favela's Puente Nuevo Family Tour 2:30–3:30 p.m. Fun for the whole fam! Connect with the artwork through chats, close looking, and creativity.
Curator Tours
3–5 p.m.
Curators pull the curtain back and reveal how the new exhibitions and galleries came to life. Maggie Adler, Puente Nuevo by Justin Favela (3–3:30 p.m.); Kristen Gaylord, Set in Motion: Camille Utterback and Art That Moves (3:30–4 p.m.); John Rohrbach, Gordon Parks: The New Tide, Early Work 1940–1950 (4–4:30 p.m.); Shirley Reece-Hughes, Highlights from the 20th Century (4:30–5 p.m.)
What's Your Story? Zine Making Featuring Make Art with Purpose
4–9 p.m.
In celebration of Let's Talk at the Carter, a collaborative zine with Make Art with Purpose (MAP), drop in to create a zine that expresses a story about you and your community.
Family Tour
5–6 p.m.
Fun for the whole fam! Connect with the artwork through chats, close looking, and creativity.
Members VIP Access to Party on the Porch
6–10 p.m.
Enjoy special members' access to our public reopening festival including the exclusive Member Bar.
Kid Pop-up Studio
6–8:30 p.m.
Play and create under the shadow of the Henry Moore sculptures.
Ask a Carter Expert
6:30–9:30 p.m.
Stop and chat with docents about artworks in the collection.
Community Portrait with Carter Community Artists
6:30–9:30 p.m.
Collaborate with local artists to add your creativity to a gigantic artwork.
Abraham Alexander
7–8:30 p.m.
Join the up-and-coming Fort Worth musician whose soulful, blues-style voice brings listeners into a personal journey, evoking emotion in the deepest sense.
The Band of Heathens
8:30–10 p.m.
Close the night out with Austin-based The Band of Heathens who blend country, rock, and soul to create their own brand of American music.
About the Amon Carter Museum of American Art
Designed by renowned architect Philip Johnson (1906–2005), the Amon Carter opened in 1961 and houses a preeminent collection of American art including painting, photographs, sculpture and works on paper. The paintings collection spans early 19th-century expeditionary art to mid-20th-century Modernism and includes masterworks by artists such as Frederic Church, Stuart Davis, Arthur Dove, Thomas Eakins, Winslow Homer, Georgia O'Keeffe and John Singer Sargent. The museum is one of the nation's major repositories of American photography from the 19th century to the present and holds the archives of luminaries such as Laura Gilpin, Eliot Porter and Karl Struss. It is also home to nearly 400 works by Frederic Remington and Charles M. Russell, the two greatest artists of the American West. Admission is free. Open: Tuesday, Wednesday, Friday and Saturday 10 a.m.–5 p.m.; Thursday 10 a.m.–8 p.m.; Sunday 12–5 p.m. Closed Mondays and select holidays.