In Our Own Words: Native Impressions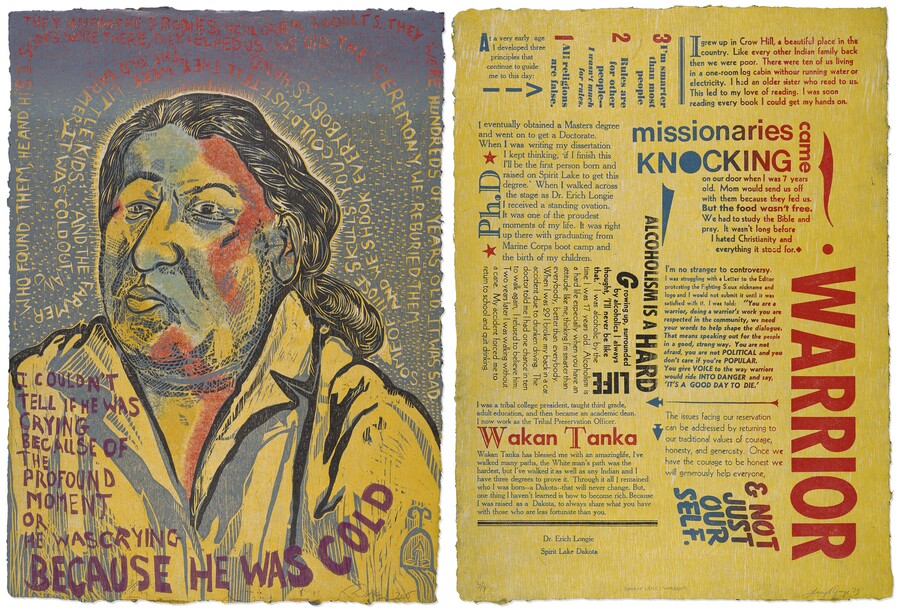 In Our Own Words features a portfolio of twenty-six vibrantly colored printed portraits by living artists Daniel Heyman (b. 1963) and Lucy Ganje (b. 1949). The two collaborated in portraying present-day members of North Dakota Indian nations, including those around Standing Rock, recently in the news.
Heyman traveled to North Dakota in the summer of 2015 to begin work with Ganje on a project that chronicles the stories of individuals who live within the state's various nations. The artists combined portraits and text from a range of people in the communities they visited including a former marine, two university presidents, and a grieving mother, among others. The exhibition features each sitter's personal oral history in his or her own words, as told to the artist while sitting for a portrait, giving voice to those historically denied a voice. Recurring motifs include climate, energy, and the legacy of boarding schools to which elder relatives were sent as forced assimilation.
I Couldn't Tell if He was Crying
Daniel Heyman Lucy Ganje 2015
Color reduction woodcut and lithograph on handmade mulberry and North Dakota native milkweed paper
Slide Controls
The entire portfolio on handmade paper made from the pulp of trees from North Dakota is now part of the Carter's permanent collection. This is the first time we will exhibit the recent acquisition. The works are living testimony that Native culture is far from vanished, but rich, varied, and constantly shifting, providing a counterpoint to the museum's nineteenth-century holdings.