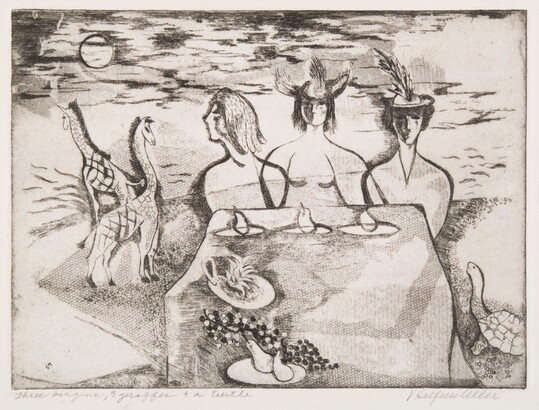 Three Virgins, 3 Giraffes and a Turtle
Veronica Helfensteller (1910-1964)
Object Details
Etching and soft ground etching

Image: 6 x 8 in.
Sheet: 7 5/8 x 9 1/4 in.

Recto:

l.l. beneath image, in graphite: Three virgins, 3 giraffes + a turtle

signed, l.r. beneath image, in graphite: V Helfensteller

Amon Carter Museum of American Art, Fort Worth, Texas, Gift of Friends in memory of Bror Utter

© Estate of Veronica Helfensteller
Object Description
Fort Worth became the epicenter of modernist printmaking in Texas when, in 1944, Helfensteller began holding weekly etching sessions at her studio. Joined by fellow artists such as Lia Cuilty, Kelly Fearing, Dickson and Flora Blanc Reeder, and Bror Utter—all members of the Fort Worth Circle, a loose collective of local artists interested in modern art— she created surrealist prints inspired by avant-garde practices in Paris and New York City.
Helfensteller's prints from these sessions often portray humans and animals inhabiting fantastical settings that elude easy interpretation, such as this moonlit depiction of three women sitting before plates of fruit. In characteristically cryptic fashion, the artist's inscription on the margin of the print indicates "3 giraffes," yet only two are identifiable in the composition.
—Text taken from the Carter Handbook (2023)
Amon Carter Disclaimer
This information is published from the Carter's collection database. Updates and additions based on research and imaging activities are ongoing. The images, titles, and inscriptions are products of their time and are presented here as documentation, not as a reflection of the Carter's values. If you have corrections or additional information about this object please email us to help us improve our records.
Every effort has been made to accurately determine the rights status of works and their images. Please email us if you have further information on the rights status of a work contrary or in addition to the information in our records.