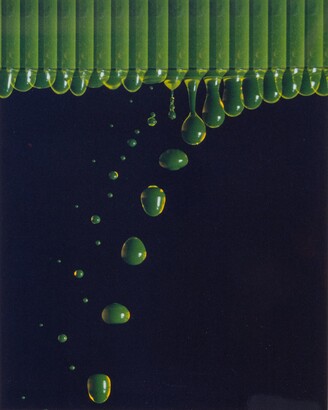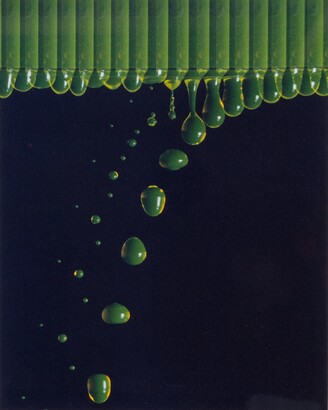 The Formation of a Drop of Liquid
Harold Eugene Edgerton (1903-1990)
Object Details
Image: 7 5/8 x 9 9/16 in.
Sheet: 8 1/16 x 9 15/16 in.

print verso:

u.l. in red pencil: 10.873

u.r. in ink: 60/sec.

taped to c., typed on paper: THE FORMATION OF A DROP OF LIQUID photographed by stroboscopic light at \ 60 flashes/sec. The

camera was moved so that the pictures are displaced \ in space as well as in time. Of special interest is the string of liquid which joins

the drop to the parent liquid. Note especially the \ formation of the small drops by the break-up action of the thread of \ liquid. The

ocillations of the large drop are graphically displayed in \ the sequence photography. (HAROLD EDGERTON and PETER MUI, MIT, Cambridge, MA)

signed and dated l.r. in ink: Harold Edgerton \ MIT 1982

Amon Carter Museum of American Art, Fort Worth, Texas, Gift of Mr. and Mrs. Gus Kayafas, Concord, Massachusetts

© Estate of Harold E. Edgerton, courtesy Palm Press, Inc.
Amon Carter Disclaimer
This information is published from the Carter's collection database. Updates and additions based on research and imaging activities are ongoing. The images, titles, and inscriptions are products of their time and are presented here as documentation, not as a reflection of the Carter's values. If you have corrections or additional information about this object please email us to help us improve our records.
Every effort has been made to accurately determine the rights status of works and their images. Please email us if you have further information on the rights status of a work contrary or in addition to the information in our records.