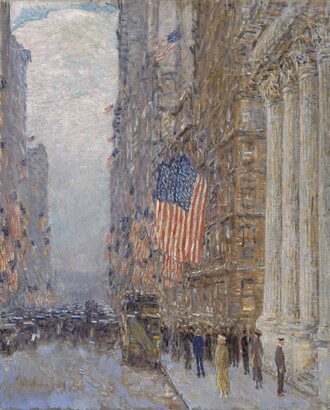 Flags on the Waldorf
Childe Hassam (1859–1935)
Object Details
Date:

Date

Medium:

Medium

Dimensions:

Dimensions

Collection Name:

Collection Name

Credit Line:

Credit Line

Amon Carter Museum of American Art, Fort Worth, Texas

Accession Number:

Accession Number
Object Description
Between 1916 and 1919, Hassam was the only major impressionist to document the occasions during World War I when Allied Flags flew along New York City's Fifth Avenue in support of the war effort. This painting, however, predates America's entry into the war and may depict the commemorative events held in 1916 marking the one-year anniversary of Germany's sinking of the Lusitania on May 7, 1915. This masterwork and others in the series represent hallmarks of American Impressionism, seen in Hassam's application of short, broken brushstrokes of unblended colors that evoke the people and facades of the city. The stone and brick-clad building at right is the original Waldorf–Astoria Hotel, which was demolished in 1929 to make way for the Empire State Building.
Educator Resources
Essential Questions
How do artists make patriotic statements?
What is the significance of the American flag? What meanings does it hold for Americans today? Besides the American flag, what other iconic symbols are associated with the United States?
What is impressionism and what techniques do impressionist artists use?
What events in American history were occurring at the time of this painting?
Suggested Activities (Kindergarten–5th grade)
Read the poem "The Fourth" in Shel Silverstein's Where the Sidewalk Ends: the Poems and Drawings of Shel Silverstein. Then let students listen to familiar sounds or songs related to patriotic celebrations (i.e. fireworks, parades, the national anthem, a John Phillip Sousa march). Ask students to describe the sounds they hear. After playing all of the sounds, have students use a flag shaped cut-out to write sound words that reflect what they have just heard.
Suggested Activities (Any grade)
Have students use red and blue colored pencils to make an Impressionist drawing of an American flag. Remind students to avoid outlines and to make short strokes with their pencil.
Invite students to design a new flag for the United States that does not include the traditional stars and bars. Encourage students to think about what shapes, symbols, and colors they would use. They may even include words. Also have students consider what makes our larger community, the nation, unique from all the other nations in the world. What comes to mind when thinking of the United States?
Tombstone Data
Image Credit
Amon Carter Museum of American Art, Fort Worth, Texas
Object Copyright