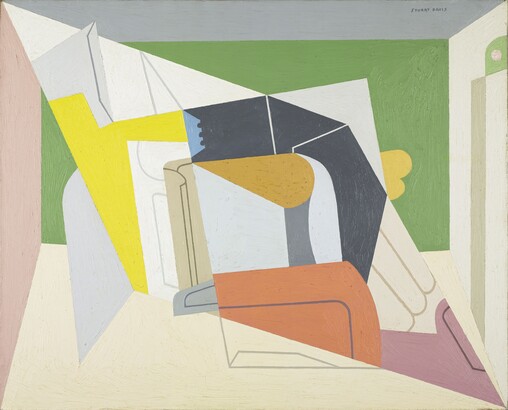 Egg Beater No. 2
Stuart Davis (1892–1964)
Object Details
Date:

Date

Medium:

Medium

Dimensions:

Dimensions

Collection Name:

Collection Name

Credit Line:

Credit Line

Amon Carter Museum of American Art, Fort Worth, Texas

Accession Number:

Accession Number
Object Description
From 1927 to 1928, Davis created a landmark group of four paintings known as the Egg Beater series. Nailing an electric fan, a rubber glove, and an eggbeater to a table, he worked exclusively from the still-life subject matter, devising a style based on cubist principles of fragmenting three-dimensional objects into two-dimensional forms.
In Egg Beater No. 2, the second work in the series, Davis fused the still-life elements within a diamond-like central shape in a palette of pastel colors. The ordinary household objects become unrecognizable as vigorous patterns of intersecting, flat, geometric forms. The series, and this work in particular, earned Davis renown as one of America's most avant-garde artists.
Educator Resources
Essential Questions
Why do artists create still lifes?
Why might an artist focus on only a small group of objects for an extended period of time?
How can colors, lines, and shapes represent objects?
Why might an artist pursue different styles of painting throughout their career?  
How have American still lifes changed over time? How have they remained the same?
Suggested Activities (any grade)
Students will create an abstract still-life. Pose objects on a flat surface in front of students. Each student begins by dividing their paper into four parts by drawing one line down the center horizontally and one line down the center vertically. Students will then pick one object to draw four times in four different ways. Encourage students to think about textures, lines, and basic shapes. 
Tombstone Data
Image Credit
Amon Carter Museum of American Art, Fort Worth, Texas
Object Copyright