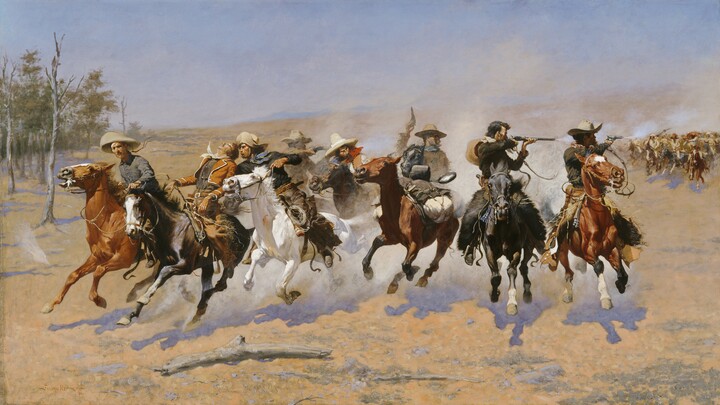 A Dash for the Timber
Frederic Remington (1861–1909)
Object Details
1889
Oil on canvas
48 1/4 X 84 1/8
1961.381
Amon Carter Museum of American Art, Fort Worth, Texas, Amon G. Carter Collection
Object Description
Between 1885 and 1888, Remington made several trips to the Southwest to document the Apache Wars. He was deeply influenced by the stark landscape there and filled his sketchbooks with color notes and observations about the special quality of the light.
Back in his studio in 1889, he wrote a friend to say he needed a few pairs of chaps sent to him for source material because he was working on this painting—"a big cowboy picture"—which launched his career when it received favorable
critical attention. The overall effect of the composition is truly cinematic, and the action-filled portrayal of the struggle of life anticipates the many western films that were to follow a generation later.
Image Credits
Amon Carter Museum of American Art, Fort Worth, Texas, Amon G. Carter Collection, 1961.381