January 29, 2020

The Amon Carter Museum of American Art Announces the Acquisition of Rare Three-Nested Sculpture by Ruth Asawa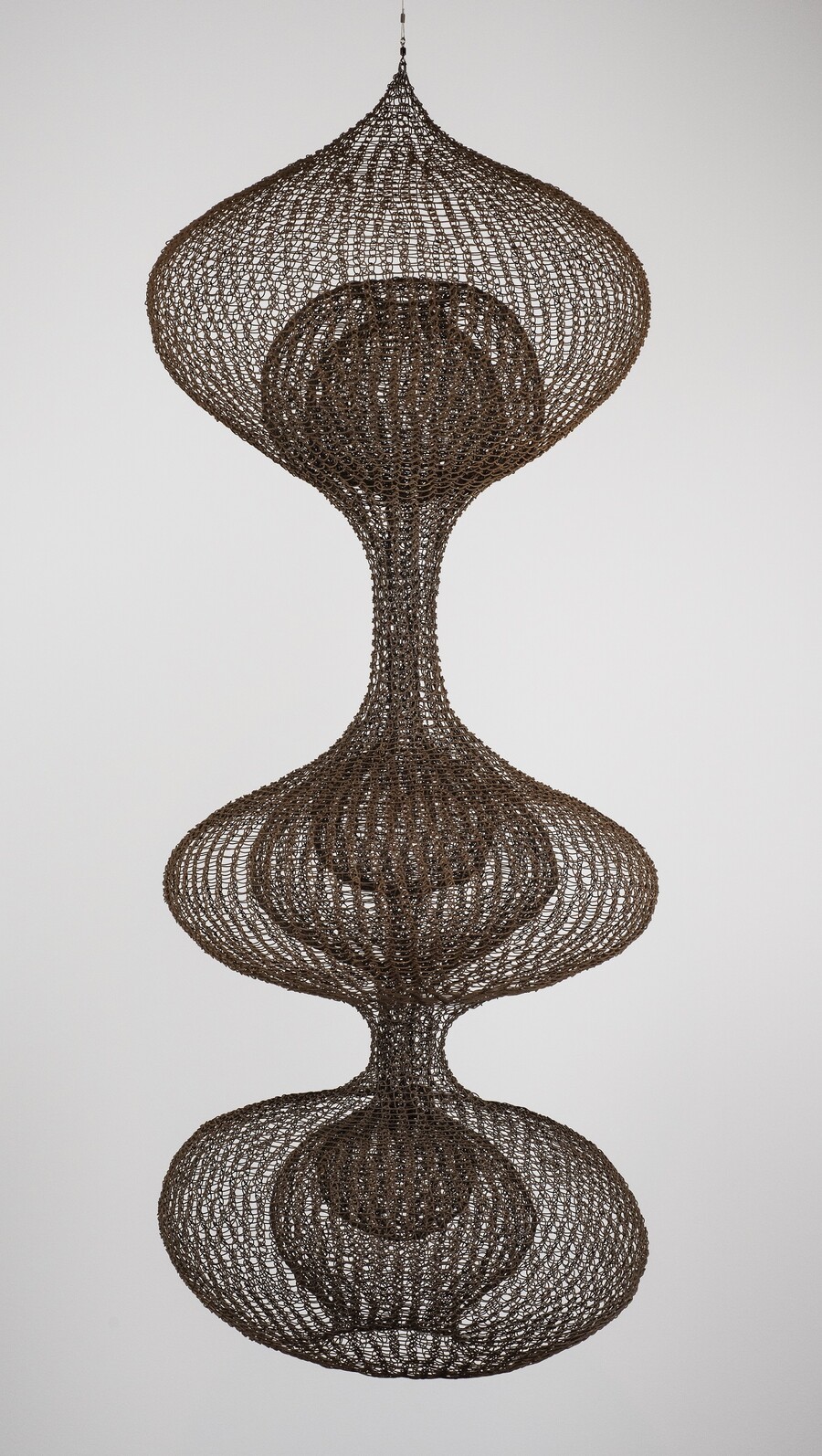 With this acquisition, the Carter becomes the first museum to own the artist's only known three-lobed "form within a form" hanging sculpture created from a single wire
Fort Worth, TX, January 29, 2020 – The Amon Carter Museum of American Art announced today the landmark acquisition of Ruth Asawa's Untitled (S.453, Hanging Three-Lobed, Three-Layered Continuous Form within a Form) (ca. 1957-59). Known for her looped-wire sculptures, Asawa's Untitled (S.453) is an unique example of her continuous "form within a form" hanging sculptures. The acquisition establishes the Carter as the only institution in America to have this type of the artist's sculpture in their collection, and it marks the first major three-dimensional work by a West Coast artist to enter the Carter's collection. Untitled (S. 453) adds deep resonance to the more than fifty lithographs created by the artist at the Tamarind Lithography Workshop, also in the Carter's collection.
Created for Asawa's brother George in gratitude for his care of their aging parents, Untitled (S.453) is an elaborate and virtuoso example of her signature "form within a form" works. Composed from a single line of iron wire that the artist intricately hand looped, Asawa created three interior lobes, then added two subsequent layers. The line is continuous from the interior form of the bottom lobe to its completion at the outer layer of the top lobe. It is the only three-lobed, three-layered continuous form-within-a-form sculpture that the artist made from one wire, making it a rare work in the artist's career and in the history of American art.
"The addition of this remarkable work by the celebrated American artist Ruth Asawa exemplifies the museum's collecting commitment to acquire work of the highest quality that represents important periods throughout the history of American art," said Executive Director Andrew J. Walker.
Asawa, whose career spanned more than fifty years, is known for her intricate wire sculptures made by hand that encapsulate and activate negative space. As such, she is widely considered among the most significant artists of mid-century. Asawa began experimenting with creating art from everyday materials during her time studying under artist Josef Albers at Black Mountain College in North Carolina. The manipulation of commercially produced wire became a means of pushing the boundaries of sculpture for Asawa. She defined her process as an experimental exploration between material and technique. Light serves as an additional compositional element in her work, underscoring the transparent quality of her hanging orb pieces while simultaneously expanding their forms through shadows.
"Asawa transformed sculpture's potential and meaning with her continuous form-within-a-form hanging spheres. Untitled (S.453) challenges our perceptions of mass, light, and space," remarked Shirley Reece-Hughes, Curator of Paintings, Sculpture, and Works on Paper.
Untitled (S.453) is on view in the Carter's twentieth-century collection galleries, which are included in the museum's free admission. The museum's Experts Talk on the Carter (etc.) lecture on Thursday, March 26, will focus on Asawa, her contribution to sculpture, and the museum's acquisition with artists Amber Bailey and Carmen Menza. Tickets and details are available at cartermuseum.org/events.
About Ruth Asawa
Ruth Asawa was born in Norwalk, California, in 1926. She expressed interest in art from an early age. In 1942, her family was interned at the Santa Anita racetrack in Arcadia, California, where she learned drawing techniques from Walt Disney Studio illustrators also interned at the camp. After six months, they were sent to an internment camp in Rowher, Arkansas, where Asawa completed high school. Asawa subsequently attended Milwaukee State Teachers College (now the University of Wisconsin at Milwaukee) studying art education but ultimately did not complete her degree, leaving the school due to continued hostilities toward Japanese Americans. During this time, she traveled to Mexico with her sister to see the work of Mexican muralists firsthand, subsequently enrolling at the Escuela de Pintura y Escultura. Clara Porset, a teacher Asawa met there, encouraged her to apply to Black Mountain College in North Carolina to study under Josef Albers. While studying there between 1946 through 1949, she absorbed the school's principles of balancing arts, humanities, and labor, which continued to be reflected in her art and professional endeavors throughout her life. During the summer of 1947, Asawa returned to Mexico to teach and during this time learned a basket-weaving technique used by local artisans. This skill informed her experimentation with found wire upon her return to Black Mountain College.
Asawa's hand-looped wire sculptures redefined the possibilities of sculpture in the mid-twentieth century. Teaching remained an important aspect of Asawa's career, and she co-founded the Alvarado Arts Workshop for school children in 1968 in addition to playing a vital role in the opening of the first public arts high school in San Francisco in 1982, which was renamed the Ruth Asawa San Francisco School of the Arts in her honor in 2010. Since the mid-1950s, Asawa's work has been widely exhibited and collected by institutions including the San Francisco Museum of Modern Art; M.H. de Young Museum, San Francisco; Amon Carter Museum of American Art; Crystal Bridges Museum of American Art; Los Angeles County Museum of Art; Solomon R. Guggenheim Museum, New York; Whitney Museum of American Art; and the Museum of Modern Art, New York.
Image: Ruth Asawa (1926–2013), Untitled (S.453, Hanging Three-Lobed, Three-Layered Continuous Form within a Form), ca. 1957–59, iron wire, Amon Carter Museum of American Art, Fort Worth, Texas, © 2020 The Estate of Ruth Asawa, Courtesy The Estate of Ruth Asawa and David Zwirner
About the Amon Carter Museum of American Art
Located in the heart of Fort Worth's Cultural District, the Amon Carter Museum of American Art explores the breadth and complexity of American creativity through an important and dynamic art collection. The Carter opened in 1961 to benefit its community by sharing the wonder of American art, fostering the growth of a vibrant cultural spirit, and stimulating artistic imagination. Housed in a building designed by Philip Johnson (1906–2005), the Carter features one of the great collections of American art including masterworks of painting, sculpture, and works on paper by artists such as Alexander Calder, Frederic Church, Stuart Davis, Thomas Eakins, Jacob Lawrence, Georgia O'Keeffe, John Singer Sargent, and Grant Wood. The Carter is also home to a world-renowned photography collection that spans the history of the medium from the mid-nineteenth century to today. It is also home to Amon G. Carter Sr.'s collection of nearly 400 works by Frederic Remington and Charles M. Russell, two of the most significant artists of the American West. Admission is free. Open: Tuesday, Wednesday, Friday, and Saturday 10 a.m.–5 p.m.; Thursday 10 a.m.–8 p.m.; Sunday 12–5 p.m. Closed Mondays and select holidays. cartermuseum.org @theamoncarter