Eliot Porter (1901–1990) set the model for today's nature photography. While he is internationally celebrated for his colorful renderings of the natural world, Eliot Porter's Birds highlights his equal, career-long focus on photographing birds. More than thirty photographs and archival objects are presented alongside excerpts from the artist's extensive writings about his activities, giving visitors an opportunity to feel a direct connection with the artist. 
Porter photographed birds almost every spring for more than fifty years, deeply appreciating their colors, variety, and ability to fly. He sought from the start to set a new artistic model for bird photography that aligned with the great lithographs of the nineteenth-century artist-naturalist John James Audubon. Visitors will be able to experience how Porter pushed the limits of photographic technologies through a display of his personally designed camera outfit. Also on view are his research notes for locating and recording his subjects, and a display showing how he went about making his exquisite prints.  
Slide Controls
Slides
Eliot Porter
Purple Gallinule, Everglades National Park, Florida, March 2, 1954 [Porphyrula martinica], 1954
Dye imbibition print

P1990.52.63
Eliot Porter
Eastern Flicker, Seney, Michigan, June 28, 1973, 1973
Dye imbibition print

P1990.52.119
W. Eugene Smith
Eliot Porter, Guggenheim fellow, photographer, specialty birds, ca. 1947
Gelatin silver print

P2019.50
Eliot Porter
Arizona Cardinal, Male, X-9 Ranch, Arizona, May 5-6, 1952, 1952
Dye imbibition print

P1990.52.249.2
Laura Gilpin
Eliot Porter Setting Up Equipment for Photographing a Lewis Woodpecker, 1952
Gelatin silver print

P1990.59.88
Eliot Porter
Chipping Sparrow, Great Spruce Head Island, Maine, June 19, 1971, 1971
Dye imbibition print

P1990.52.277.1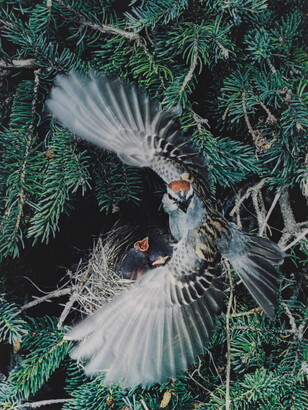 Eliot Porter
Alder Flycatcher, July 15, 1939, 1939
Gelatin silver print

P1990.55.85.1
This exhibition is made possible by Eliot Porter himself, who bequeathed his professional archives to the Carter in 1990. This collection includes approximately 7,500 original dye imbibition prints and 1,800 gelatin silver photographs covering the length and breadth of his career; his negatives, slides, and transparencies; his manuscripts for more than twenty books; and his correspondence and papers.
Installation Photos
Click a button below to open in gallery. Activating any of the below buttons shows the installation photos gallery