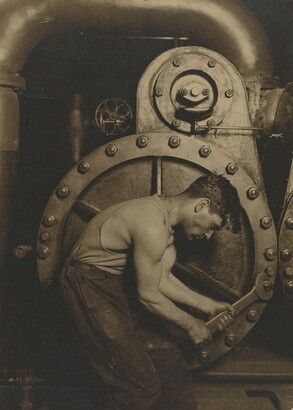 Steamfitter
Lewis Wickes Hine (1874–1940)
Object Details
Photographs, Collection Highlights

Amon Carter Museum of American Art, Fort Worth, Texas
Object Description
Originally a sociologist and teacher, Hine started using a camera as a tool for activism and in the process became one of the great photographers of the twentieth century. Never feigning objectivity, he once said: "There are two things I wanted to do. I wanted to show the things that had to be corrected. I wanted to show the things that had to be appreciated."
Steamfitter is from a series that attempted the latter, celebrating modern laborers like construction workers, railroad builders, and, as here, power plant workers. Hine believed that the worker was not diminished by the scale and power of the machinery around him, since it was all invented, built, and operated by humans.
Educator Resources
Essential Questions
How might the importance of the experiences and daily lives of ordinary people be highlighted through photography?
What role do photographers play in celebrating the positive aspects of society? What role do they play in condemning the negative aspects of society?
How can the pose, expression, and clothing of a figure in a photograph impact the viewer's understanding of that person?
What is the relationship between people and machines and how has that relationship changed over time?
Suggested Activities (any grade)
Think about the effect of power and capability that Hine created in this photograph. Think of an industry or event that you are familiar with that requires strong, capable people. Create an image of that industry or event that conveys that sense of power and capability of the people who participate.
Tombstone Data
Object Copyright