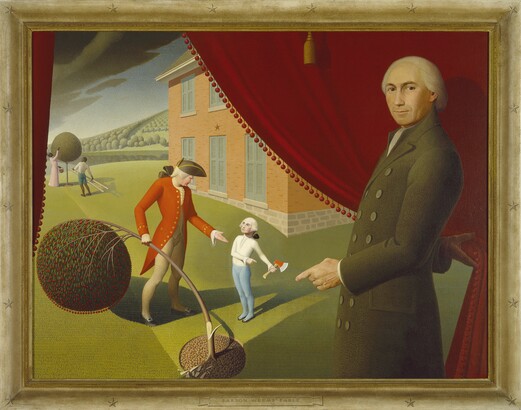 Parson Weems' Fable
Grant Wood (1891–1942)
Object Details
Paintings, Collection Highlights

Amon Carter Museum of American Art, Fort Worth, Texas
Object Description
In 1939, Wood created this painting of the folktale of young George Washington and the cherry tree to remind viewers of America's democratic foundations at a time when fascism was escalating in Europe.
Parson Weems, the author of the fable, pulls back the curtain and points to a six-year-old Washington who is confessing to his father, "I cannot tell a lie." Wood humorously appropriated the adult head from Gilbert Stuart's eighteenth-century portrait of the first president (which graces the one-dollar bill) for the young boy. The African Americans in the background, who are picking cherries, remind us that even though Washington was the first leader of the newly independent nation, he was a slaveholder his entire life.
Educator Resources
Essential Questions
Why would an artist choose to paint fables or popular stories?
How can an artwork convey a narrative or story?
Why are fables and folktales important to the history and culture of the United States?
How have fables and folktales helped shaped people's understanding of history and their national identity?
What historical events in the 1930s might have spurred the artist's interests in American fables?
How can an artwork influence or alter our understanding of a fable or folktale?
Suggested Activities (any grade)
Students will use a stencil to make an outline of a star. Next they will consider "simple, everyday things" to include in a patriotic artwork. Using blue and red markers, students will list those things inside and/or outside of the star.
Suggested Activities (4th–8th grade)
We know that in this work of art, Grant Wood is representing the moral of honesty through Parson Weems' American fable of George Washington and the Cherry Tree. Students should consider other morals that we try to uphold as Americans. This could be loyalty, bravery, patience, knowledge, support, independence, acceptance, or something else. Students will draw curtains to create a stage for their artwork, just as Grant Wood painted. Then sketch a representation of the moral that is most important to them.
Suggested Activities (4th–8th grade)
Students will explore narrative from the role of narrator – the one pulling back the curtains to reveal a story about an individual. Students should consider:
Who will be the star on their stage?
Whose story should be told and known by the public?
What lesson, idea, or skill has this person taught?
What action will be taking place on the stage?
What will be in the background?
Students can sketch out a pair of curtains. In between the curtains they can write the following headings: "Who," "Action," and "Background." They should be sure to leave space in between the headings. For "Who", write down who is the central figure of your story and explain why they selected this individual. For "Action" write down two to three sentences describing what action will take place on their stage. For "Background" give a detailed description of what will be in the background of their story.
Tombstone Data
Object Copyright