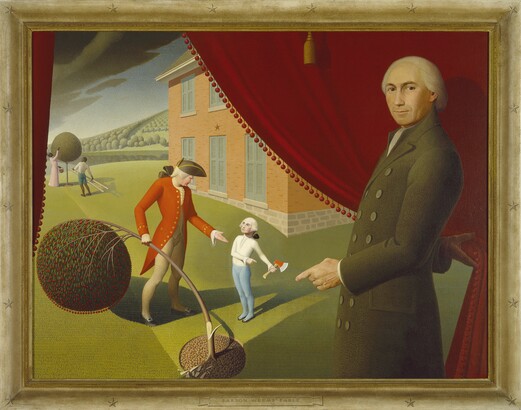 Parson Weems' Fable
Grant Wood (1891–1942)
Object Details
1939
Oil on canvas
38 3/8 X 50 1/8
1970.43
Amon Carter Museum of American Art, Fort Worth, Texas
Object Description
In 1939, Wood created this painting of the folktale of young George Washington and the cherry tree to remind viewers of America's democratic foundations at a time when fascism was escalating in Europe.
Parson Weems, the author of the fable, pulls back the curtain and points to a six-year-old Washington who is confessing to his father, "I cannot tell a lie." Wood humorously appropriated the adult head from Gilbert Stuart's eighteenth-century portrait of the first president (which graces the one-dollar bill) for the young boy. The African Americans in the background, who are picking
cherries, remind us that even though Washington was the first leader of the newly independent nation, he was a slaveholder his entire life.