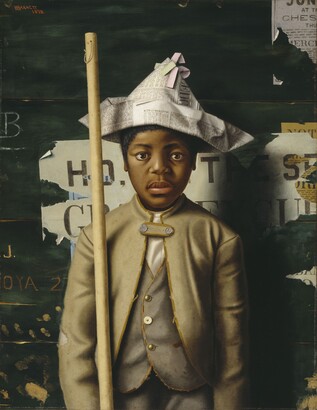 Attention, Company!
William M. Harnett (1848–1892)
Object Details
Paintings, Collection Highlights

Amon Carter Museum of American Art, Fort Worth, Texas
Object Description
Known as a painter of gentlemanly still lifes, Harnett executed only one figure painting in his life, this illusionistic study of a child. Even so, he painted the buttons on this coat, the ripped posters, and the boy with equal attention, making even a portrait into a kind of still-life painting.
This painting challenges the notion of Harnett as an artist concerned with the outward appearance of inanimate objects and not with deeper meanings. "I endeavor to make the composition tell a story," he once said. But what narrative does he offer here in the face of this young boy, frozen at attention as a make-believe soldier, with his tattered clothes, his whimsical newspaper hat, and the inscrutable graffiti-laden wall behind him?
Tombstone Data
Object Copyright