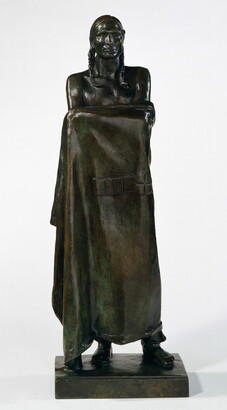 An American Stoic
Alexander Stirling Calder (1870-1945)
Object Details
Signed, on back left hip on belt: Calder

Signed, on back of base: A. Stirling Calder \ Copyrighted 1912

Stamped on back of base: GORHAM CO FOUNDERS Q309 #3

Amon Carter Museum of American Art, Fort Worth, Texas
Object Description
Wrapped in a blanket, shoulders squared, an American Indian figure gazes forward. The title of Calder's bronze, An American Stoic, explains the man's stern demeanor. A stoic, the epitome of self-control, is someone free from passion, unmoved by joy or grief, and able to quietly endure.
The silent, stone-faced American Indian was a common image in art and popular culture at the turn of the century. But this stereotype did not reflect reality. Native peoples were vocal civic participants during Calder's lifetime. They debated and advocated for a range of reforms—as they continue to do today—including tribal land ownership and political self-determination.
Educator Resources
What might be the benefits of using bronze to create a sculpture?

Why do artists choose particular tools, techniques, and materials to express their ideas?

What does the word "stoic" mean? How does the idea of stoicism function within American history?

How do works of art reflect and impact the history of those who identify as Black, Indigenous, or people of color in the United States?

In what ways is the use of an image of a single person inadequate to represent a larger group?

How are stereotypes created and then perpetuated, and what role do these stereotypes play in the national imagination?
Amon Carter Disclaimer
This information is published from the Carter's collection database. Updates and additions based on research and imaging activities are ongoing. The images, titles, and inscriptions are products of their time and are presented here as documentation, not as a reflection of the Carter's values. If you have corrections or additional information about this object please email us to help us improve our records.
Every effort has been made to accurately determine the rights status of works and their images. Please email us if you have further information on the rights status of a work contrary or in addition to the information in our records.