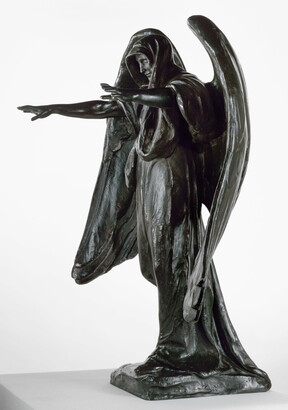 Benediction
Daniel Chester French (1850-1931)
Object Details
Cast by Roman Bronze Works

On the base, proper left: D.C. French \ 1922

One the base, proper left: ROMAN BRONZE WORKS N.Y.

Amon Carter Museum of American Art, Fort Worth, Texas, Purchase with funds provided by the Council
Object Description
French modeled Benediction in 1922, the same year that his best-known sculpture, the seated Lincoln, was dedicated at the Lincoln Memorial in Washington, D.C. Executed near the end of the artist's prolific career, Benediction represents the culmination of his long investigation into the motif of the winged female figure. He conceived this statuette as the central element of a proposed monument to honor Massachusetts soldiers who had died during World War I. The memorial project was never realized, but in subsequent years French engaged the sculpture foundry Roman Bronze Works to make four bronze casts of his design, including this one.
Educator Resources
How should decisions about the creation of memorials be made? Does it matter if a memorial is public or private?

What does it mean for a memorial to be successful?

How do artists evoke emotions about an event without a visual depiction of the event itself?

In what ways might the place of display impact the meaning and reception of a work of art?

How do artists create a sense of movement, motion, or action in their artworks?

Grades 4–8

Think of ways that people or events have been memorialized in the United States or in your community. Have those memorials been successful? Why or why not? Think of a person or event in the United States or in your community that you believe should be memorialized. What form might that memorial take?

Grades 9–12

Choose a national or local memorial (public or private, any media) and research its creation and how it has been received since its creation. What impact do shifting social or political concerns have on the reception of the memorial you chose?
Amon Carter Disclaimer
This information is published from the Carter's collection database. Updates and additions based on research and imaging activities are ongoing. The images, titles, and inscriptions are products of their time and are presented here as documentation, not as a reflection of the Carter's values. If you have corrections or additional information about this object please email us to help us improve our records.
Every effort has been made to accurately determine the rights status of works and their images. Please email us if you have further information on the rights status of a work contrary or in addition to the information in our records.