February 27, 2019

The Amon Carter Museum of American Art Presents Major Touring Exhibition of Photographs by Gordon Parks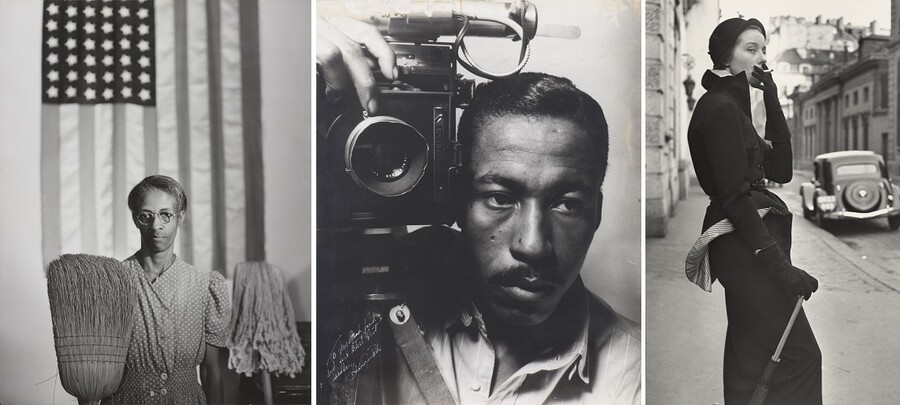 Gordon Parks: The New Tide, Early Work 1940–1950 is the First Exhibition Dedicated to this Barrier-Breaking Photographer's Formative Decade
Fort Worth, TX, February 27, 2019—The first exhibition chronicling the formative beginnings of Gordon Parks's extensive career opens at the Amon Carter Museum of American Art September 14, on view through December 29, 2019. Organized by the National Gallery of Art, Washington, in collaboration with The Gordon Parks Foundation, this exhibition highlights Parks's mastery of the camera to create an uplifting vision of African-American life at the mid-20th century. Gordon Parks: The New Tide, Early Work 1940–1950 will be the inaugural exhibition in the museum's newly renovated galleries, which includes expanded space dedicated to special exhibitions.
The pioneering African-American photographer Gordon Parks (1912–2006) considered his work of the 1940s and '50s to be the catalyst for a deeply influential 60-year career that stretched from photography to writing and filmmaking. Within this first decade, Parks grew from a self-taught portrait photographer in Minneapolis and Saint Paul into an influential photojournalist working in New York for such magazines as Ebony and Glamour. In 1949 he became the first African-American staff photographer at Life magazine. Incorporating extensive new research and many rarely seem images, Gordon Parks traces his rapid evolution while examining the expanding role of mass media in visual culture and documentary photography's essential contributions to the American civil rights movement.
"Gordon Parks was a visionary photographer whose work had a lasting impact on the world," said Andrew J. Walker, Executive Director of the Amon Carter. "We are grateful to the National Gallery of Art and The Gordon Parks Foundation for spearheading this groundbreaking consideration of the foundational aspects of his career and for allowing us to bring his timely and relevant perspective to our audiences in North Texas."
"Gordon Parks was part of what his friend and author Richard Wright called 'the new tide' of African-Americans, who in the 1940s were pushing for respect and racial equality," said John Rohrbach, the Amon Carter's Senior Curator of Photographs. "A consummate professional, he added finely wrought photography to the struggle for social justice, creating a model for generations to come."
From his fashion photographs to his thoughtful depictions of American life, Parks used the camera as his tool for proclaiming the value of an American community built on freedom and equality. Through some 150 photographs, as well as rare magazines, newspapers, pamphlets, and books, Gordon Parks offers an expansive and intimate look at how this pioneering African-American artist became one of the most influential photographers of his day. The exhibition is chronologically organized into five sections:
A Choice of Weapons (1940–1942)—This introductory section showcases Parks's focus on becoming a professional portrait and fashion photographer in Saint Paul and Minneapolis prior to his move to Chicago where he enters the vibrant art community centered on the South Side Community Art Center (SSCAC). Highlights include Parks's 1941 Self-Portrait and his portraits of leading African-American artists, writers, and community figures like the fashion designer Marva Trotter Louis.
Government Work (1942)—In April 1942 Parks was awarded a Rosenwald Fellowship (the first one given to a photographer) to expand his photographic vision under Roy Emerson Stryker at the legendary Historical Section of the Farm Security Administration (FSA) in Washington, D.C. During this time, Parks documented the African-American communities of his new city and created his first major picture story emphasizing the humanity of government office cleaner Ella Watson. Watson is the subject of his now iconic portrait, Washington, D.C. Government charwoman.
The Home Front (1942–1943) —Documenting Parks's work for the Office of War Information (OWI), this section shows the photographer continuing to draw public attention to the impoverished African-American communities in Southwest Washington, D.C., and then New York, while also creating uplifting portraits of significant African-American personages like Marion Anderson and Mary McLeod Bethune. Among his engaging images made in support of the American war effort are a late 1943 series celebrating the first African-American fighter pilots, including Lt. George Knox.  
Standard Oil (1944–1948)—This section features finely crafted, rarely seen work that Parks produced for Stryker in a major public relations campaign for Standard Oil Company (New Jersey) (SONJ). Over these years, Parks documented many facets the production and use of oil across the northeastern United States and western Canada.
Mass Media (1945–1950)—The final section focuses on Parks's photography for major fashion and lifestyle magazines, including Ebony, Circuit's Smart Woman, and Glamour, in addition to his freelance work and early photo essays for Life. In 1948 Parks created an extended photographic portrait of Red Jackson for "Harlem Gang Leader," which was published in Life. This poignant photography essay led to him being hired as the first African-American staff photographer at Life. Under the magazine's auspices he went on subsequent photographic trips to diverse international destinations where he mixed projects on high fashion and celebrity, including Paris Fashions from 1949, with acknowledgement of divisions of wealth, as shown in Untitled, Puerto Rico (1949).
The exhibition is organized by the National Gallery of Art, Washington, in collaboration with The Gordon Parks Foundation. Bank of America is a proud to be the national sponsor of Gordon Parks: The New Tide, Early Work 1940–1950. Generous support is provided by the Ann L. & Carol Green Rhodes Charitable Trust. Additional support comes from the Arts Council of Fort Worth. A fully illustrated catalogue, produced and published by the Gordon Parks Foundation and Steidl in association with the Gallery, features extensive new research and many previously unpublished images. The Gordon Parks exhibition is included in the museum's free admission.
About Gordon Parks
Gordon Roger Alexander Buchanan Parks was born on November 30, 1912, in the segregated town of Fort Scott, Kansas, and was the youngest of his father's 15 children. In 1928 Parks left Kansas and moved north to Saint Paul, Minnesota, where he eventually enrolled in the Civilian Conservation Corps (CCC) in 1933 after marrying Sally Alvis. After moving around New York and New Jersey with the CCC, Parks and Sally returned to Minneapolis in 1934 to begin a family.
In 1937 Parks was given a magazine that would change the course of his life, later recalling that it featured a photo story on the Dust Bowl with pictures by such photographers as Dorothea Lange and Arthur Rothstein. He soon bought his first camera and began studying photography manuals and magazines. Shortly after discovering photography, he published a photograph in the St. Paul Recorder on March 25, 1938. After moving with his wife and two children to Chicago in early 1941, Parks was given access to studio space and a darkroom in the South Side Community Art Center (SSCAC). There he developed important relationships with other artists—many who taught at the center—such as Eldzier Cortor, Margaret Taylor Burroughs, and Charles White.
In 1942 Parks was awarded the first Rosenwald Fellowship given to a photographer and offered the opportunity to work with Roy Emerson Stryker at the legendary Historical Section of the Farm Security Administration (FSA) in Washington, D.C. Parks was transferred to the Office of War Information (OWI) when the FSA Historical Section was disbanded in fall 1942. Parks ended his work for the government and permanently relocated with his family to New York in September 1943. By 1945 Parks began shooting assignments for major fashion and lifestyle magazines, including Ebony, Circuit's Smart Woman, and Glamour. In 1949 Parks was hired as the first African-American photographer for Life.
Parks would remain at Life for two decades, chronicling subjects related to racism and poverty, as well as taking memorable pictures of celebrities, athletes, and politicians (including Duke Ellington, Muhammad Ali, Malcolm X, and Stokely Carmichael). In 1969, Parks became the first African-American filmmaker to write, score, and direct a Hollywood feature, The Learning Tree (based on his bestselling novel of the same name), which was followed in 1971 by the hugely successful Shaft. He served as the editorial director of Essence magazine from 1970 to 1972. Parks spent much of the last three decades of his life expanding his style; he continued working up until his death in 2006, winning numerous awards, including the NAACP's Spingarn Medal in 1972 and the National Medal of Arts in 1988. A noted filmmaker, composer, musician, poet, and author, he worked across all media and received over 50 honorary doctorates during his lifetime, even though he never graduated from high school.
About the Amon Carter Photography Collection
The Amon Carter houses over 45,000 exhibition-quality photographic prints and 250,000 photographic objects, making the museum one of the country's major repositories of American photography. The holdings span the history of the photographic medium, from one of the earliest daguerreotypes made in this country to inkjet prints being made today. The holdings reflect photography's central role in documenting America's nineteenth-century culture and history and the medium's development as a significant and influential art form in the twentieth century to the present. Throughout its history, the Amon Carter has supported the work of contemporary photographers. In 1979 the museum commissioned Richard Avedon to create his acclaimed series In the American West, and the collection now holds the complete set of prints from that project. A collaboration in 2013 brought Chicago-based photographer Terry Evans to Forth Worth to document the city's Trinity River. The museum is also home to the archives and monographic collections of photographers Carlotta Corpron, Nell Dorr, Laura Glipin, Eliot Porter, Helen Post, Clara Sipprell, Erwin E. Smith, and Karl Struss.
About the Amon Carter Museum of American Art
Designed by renowned architect Philip Johnson (1906–2005), the Amon Carter opened in 1961 and houses a preeminent collection of American art including painting, photographs, sculpture and works on paper. The paintings collection spans early 19th-century expeditionary art to mid-20th-century Modernism and includes masterworks by artists such as Frederic Church, Stuart Davis, Arthur Dove, Thomas Eakins, Winslow Homer, Georgia O'Keeffe and John Singer Sargent. The museum is one of the nation's major repositories of American photography from the 19th century to the present and holds the archives of luminaries such as Laura Gilpin, Eliot Porter and Karl Struss. It is also home to nearly 400 works by Frederic Remington and Charles M. Russell, the two greatest artists of the American West. Admission is free. Open: Tuesday, Wednesday, Friday and Saturday 10 a.m.–5 p.m.; Thursday 10 a.m.–8 p.m.; Sunday 12–5 p.m. Closed Mondays and major holidays. @theamoncarter