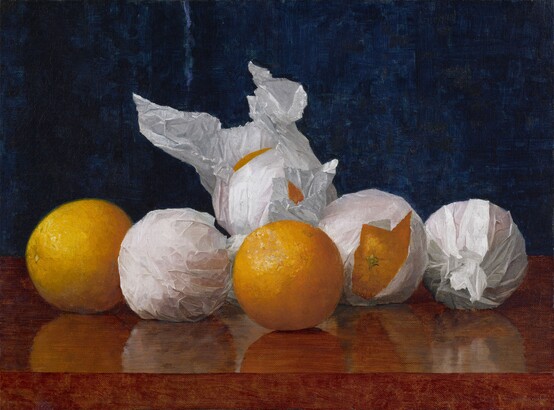 Wrapped Oranges
William J. McCloskey (1859–1941)
Object Details
Date:

Date

Medium:

Medium

Dimensions:

Dimensions

Collection Name:

Collection Name

Credit Line:

Credit Line

Amon Carter Museum of American Art, Fort Worth, Texas, Acquisition in memory of Katrine Deakins, Trustee, Amon Carter Museum of American Art, 1961-1985

Accession Number:

Accession Number
Object Description
Educator Resources
Essential Questions
What is a still life? Why might an artist choose to create one?
How might an artist make compositional choices in a work of art? What impact do those compositional choices have on the way the viewer experiences the finalized object?
What factors (social, technological, market, etc.) might influence the objects artists choose to portray and the way they are represented in a still life?
How have other artists treated the same objects very differently in their work? What artistic choices did these other artists make?
Suggested Activities (any grade)
Choose two or three examples of still lifes created with similar objects and ask students to compare the works. What decisions did each artist make in the way they treated and contextualized the object(s)? Offer students the opportunity to create a still life of their own using similar objects.
Suggested Activities (4th grade and up)
After creating still life in the activity above, pair students to write a response to one another's work, taking into consideration the compositional and medium choices as well as the context that each student provided for the chosen objects.
Tombstone Data
Image Credit
Amon Carter Museum of American Art, Fort Worth, Texas, Acquisition in memory of Katrine Deakins, Trustee, Amon Carter Museum of American Art, 1961-1985
Object Copyright