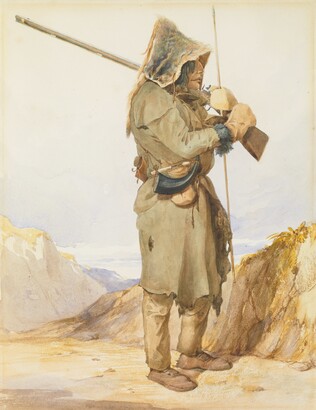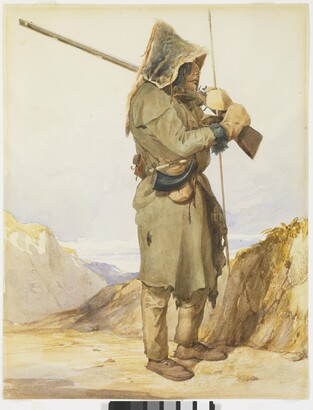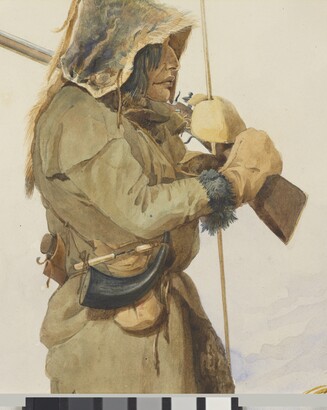 Päsesick-Kaskutäu
Object Details
Watercolor over graphite on paper

Recto:

c. on card in pen and ink: Der Assiniboin Krieger Pachsisick=caskutáeju (rien que de la \ poudré) gezeichnet zú Fort Union den 20. October 1833.

[Translation: The Assiniboin Warrior Pachsisick-caskutáeju (nothing but gunpowder) Drawn at Fort Union the 20th of October 1833.]

c.l. in graphite on card: 5 1/2 / [down arrow]

Verso:

l.r. in pen and ink: [illeg; trimmed inscription]

Amon Carter Museum of American Art, Fort Worth, Texas
Educator Resources
What choices does an artist make when creating a portrait?

What strategies do artists use to provide information about the communities and places they encounter when traveling?

In what ways is the use of an image of a single person inadequate to represent a larger group?

What kinds of relationships can exist between artist and subject, and how might those relationships impact the work of art?

How do works of art reflect and impact the history of those who identify as Black, Indigenous, or people of color in the United States?

How would you describe the person you see here? What is he wearing? Note that the coat is tailored, and the gloves were not particularly common items for Assiniboine people in the 19th century. The clothing suggests a mixture of White and Indigenous fashion. What objects does the subject have? What is the setting?

In 1832, Karl Bodmer traveled to the United States with German Prince Maximilian of Wied-Neuwied as an artist documenting the lands and people found in the northern plains. His assignment was to provide illustrations to accompany Maximilian's detailed account of the two-year expedition, titled Travels in the Interior of North America (1843–44). Their journey took them along the Missouri River, where Bodmer met the man shown in this watercolor, Päsesick-Kaskutäu, a member of the Assiniboine tribe whose name translates to "Nothing but Gunpowder."

What do you believe we can learn about Päsesick-Kaskutäu from this watercolor? What artistic choices were made to create that impression? How might this individual portrait be used to understand the larger Assiniboine community Bodmer encountered? What are the limitations of using this single portrait to understand the Assiniboine community?

What events in American history involving native populations were happening around the time Bodmer made this watercolor? How might this history and the aims of Maximilian and Bodmer's project impact the depiction of Päsesick-Kaskutäu? How might that history impact both White and Indigenous viewers' responses to this image at the time it was created? What impact might this image have on viewer's understanding of that history today?

Grades 5–12

Ask students to consider their own community. Who are the members of their community? Have each student select a community member and sketch that person on a sheet of paper. Students should consider how the details of the sketch will provide viewers with information about the person and their community. On the reverse, students may write a brief description or story about the person depicted or the community overall.

Grades 6–12

Have students research how representations of American Indians have changed over the past two centuries. Students should select an image of an American Indian from the 20th century and an image of an American Indian from the 21st century. Students will create a graphic organizer comparing and contrasting those images with Bodmer's watercolor of Päsesick-Kaskutäu. Beyond addressing the visual differences of the images, students should consider what impact those choices have on a viewer's understanding of the populations depicted. Older students may write an essay of their analysis.

Grades 9–12

Have students research historical events involving American Indians in the decade this watercolor was created. Students may write a brief analysis explaining how this work reflects the historical context in which it was created. Students should note details from the watercolor to justify their response.
Amon Carter Disclaimer
This information is published from the Carter's collection database. Updates and additions based on research and imaging activities are ongoing. The images, titles, and inscriptions are products of their time and are presented here as documentation, not as a reflection of the Carter's values. If you have corrections or additional information about this object please email us to help us improve our records.
Every effort has been made to accurately determine the rights status of works and their images. Please email us if you have further information on the rights status of a work contrary or in addition to the information in our records.