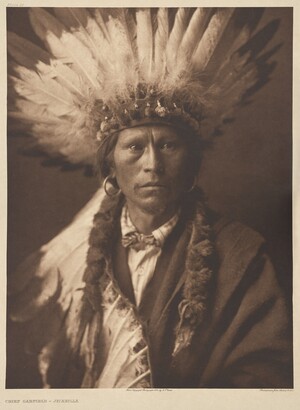 Chief Garfield - Jicarilla
Edward S. Curtis (1868–1952) John Andrew & Son
Object Details
Amon Carter Museum of American Art, Fort Worth, Texas, Purchase with the assistance of an anonymous donor
Object Description
Educator Resources
Essential Questions
In portraiture, what is the relationship between artist and subject? Who makes decisions about how the subject is portrayed?
How do physical items like clothes, accessories, facial expression and pose convey a message to the viewer?
What artistic choices does the photographer make when creating an image?
What events in American history involving native peoples are happening at the time of this photograph?
Suggested Activities (any grade)
Have each student create a portrait of themself to hang in a museum 100 years from now. Ask students to consider the following. What would they wear? How would they pose? What would be the setting of their portrait? Students may sketch their portrait or create a photographic self-portrait. Be sure to have students add an identifying caption for future generations.
Tombstone Data
Object Copyright