Carter Community Artists have a passion for the arts, a love for our community, and a keen ability to unite the two.
Carter Community Artists, an annual initiative dedicated to supporting and working with local artists, enhances Museum events, connects the North Texas area with practicing artists, and builds a network among local artists. Every year, we select four local artists that help plan and lead events at the Museum and in the community. The yearlong commitment allows collaboration between artists and education staff on a wide array of projects and events designed for family, adult, and student audiences; related events take place both at the Museum and offsite in the community. Artists can expect to work between 20 and 40 hours over the year with the Education department at the Carter. The artists' work planning, facilitating, and teaching will be supported by a $100/hour honorarium, with the number of hours varying per project.
Application Deadline: Applications for the January through December 2024 artist group are open through September 10. If you have specific questions, please email us.
Selected Carter Community Artists must be able to successfully pass a background check as this position frequently works with students in classroom and community center settings. Please note that employees of the Amon Carter Museum of American Art are ineligible for this opportunity.
Please follow us on social media at @amoncarter for updates and more information. #CarterCommunityArtists
Meet our 2023 Carter Community Artists
Kathy Brown
Dr. Kathy J. Brown is a North Texas-based artist whose work is rooted in cultural epistemologies and focuses on sewing, juxtaposition, witnessing, reimagining, homage, and counternarrative. Originally from Detroit, Brown moved to Texas to attend the University of Houston for her PhD in curriculum and instruction with an emphasis on art education; she also earned a graduate certificate in museum education. Prior to her move to Texas, Brown was a full-time, licensed pre-K–8 art teacher and a practicing artist. Currently, she is an assistant professor of art education at the University of North Texas in Denton, Texas. Her research interests and methodologies include Afrofuturism, antiracist pedagogy, arts-based research, critical ethnography, narrative inquiry, and situating the lived experiences of BIPOC educators. Brown's artwork has been included in group exhibitions and museum education programs.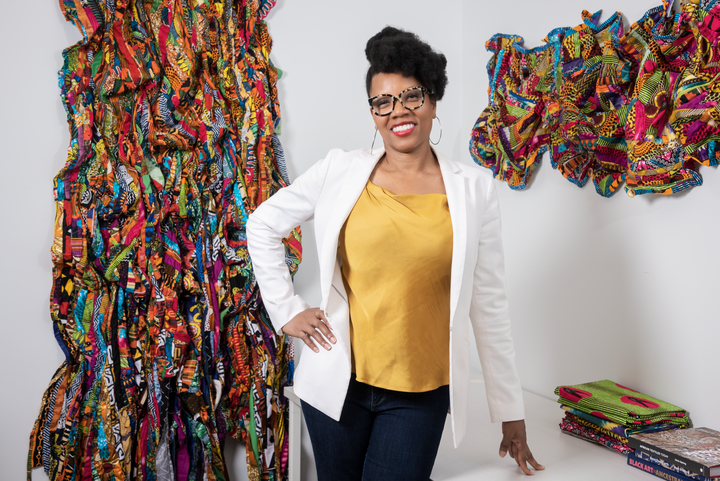 Adam Fung
Adam Fung is a Fort Worth-based artist whose work arises from direct, sustained experiences within the land, including sites such as the Arctic, Iceland, Antarctica, Italy, Australia, and the American West. Originally from Vancouver, he earned his MFA from the University of Notre Dame and BFA from Western Washington University. Having lived from coast to coast within the United States, Fung utilizes oil painting to explore our relationship to nature and the planet's looming climate crisis. Currently, Fung is an associate professor of art at Texas Christian University (TCU) in Fort Worth. His paintings can be found in public art collections at Microsoft, South Bend Museum of Art, Mercedes-Benz Financial Services, TCU, and the U.S. Department of Energy's Fermilab, as well as numerous private collections. Fung's work has been exhibited widely in galleries and exhibitions, both nationally and internationally.
Olivia Garcia-Hassell
Olivia Garcia-Hassell is a Fort Worth-based artist and art educator. Garcia-Hassell earned her BFA in art education from the University of North Texas in Denton, Texas. She worked as an art educator for Fort Worth ISD for 11 years, where she created artworks in a variety of media including charcoal, photography, watercolor, gouache, and graphite. Currently, Garcia-Hassell works as a freelance artist and curates personalized art experiences with people of all ages and abilities through workshops, private art sessions, and community outreach as "The OG Art Teacher."
Rebecca Shewmaker
Rebecca Shewmaker is a North Texas-based artist who uses sewing and embroidery techniques to create landscape paintings from fabric and thread. Beginning with hand-dyed cotton fabric, she sews layers of stitches to create textured images. Shewmaker earned her MFA in painting and intermedia from Texas Woman's University and BA in art history and visual art from Rice University. Inspired by the beauty found in nature, she has been an artist-in-residence for the Woodstock Byrdcliffe Guild in New York, Zion National Park in Utah, and Petrified Forest National Park in Arizona, and she has led numerous embroidery and fiber art workshops. Currently, Shewmaker is represented by Craighead Green Gallery in Dallas and has shown her work in solo and group exhibitions throughout the United States.
Previous Carter Community Artists