November 04, 2021

Major Survey of Contemporary Indigenous Photography to Open at the Carter in October 2022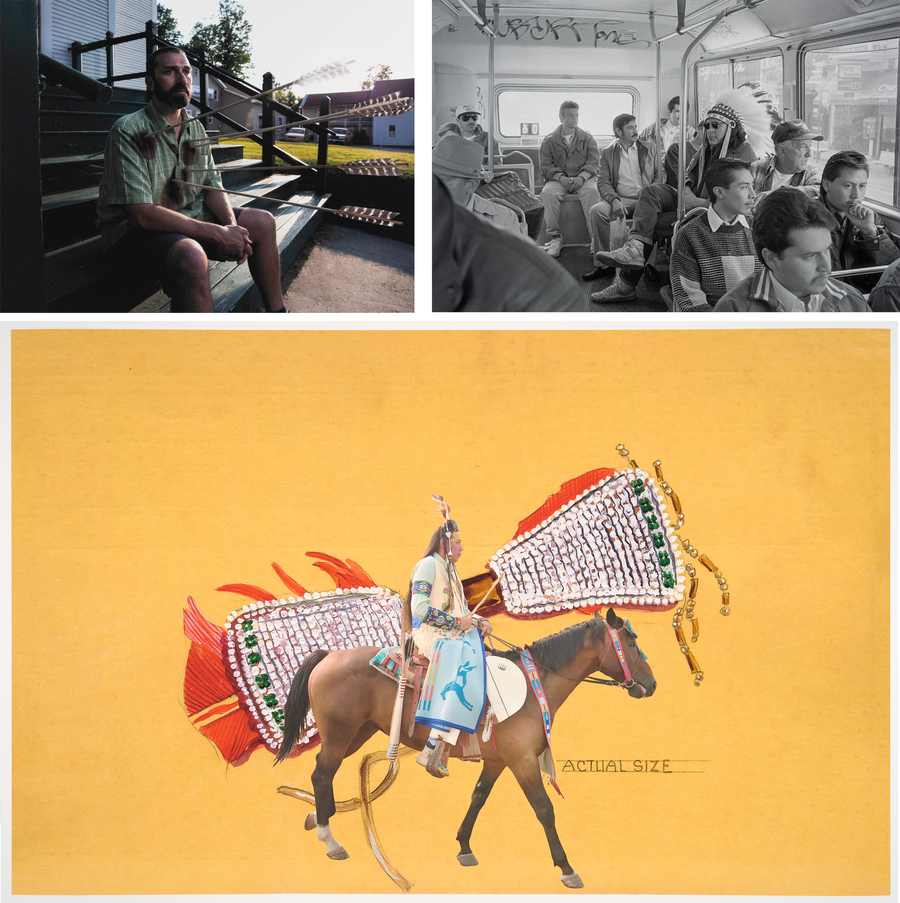 The first presentation of its kind, Speaking with Light to feature the work of over 30 Indigenous artists, including site-responsive installations by Kapulani Landgraf, Jolene Rickard, and Sarah Sense
Fort Worth, TX, November 4, 2021—Marking the first major museum survey to explore the practices of Indigenous photographers working today, the Amon Carter Museum of American Art (the Carter) will present Speaking with Light: Contemporary Indigenous Photography in October 2022. Contemporary photography-based works will spotlight the dynamic ways in which more than 30 Indigenous artists have leveraged their lenses over the past three decades to reclaim representation and affirm their existence, perspectives, and trauma. Among many milestone works, this sweeping multimedia exhibition will feature acclaimed prints by Hulleah Tsinhnahjinnie, Wendy Red Star, and Nicholas Galanin; site-responsive installations by Kapulani Landgraf and Jolene Rickard; and a new large-scale photo weaving by Sarah Sense, which has been commissioned by the Carter. Organized by the Carter and co-curated by the Museum's Senior Curator of Photographs, John Rohrbach, with artist Will Wilson, a citizen of the Navajo Nation and Photography Program Head at Santa Fe Community College, Speaking with Light will be on view at the Carter from October 30, 2022, through January 22, 2023.
Speaking with Light showcases the evolution of cultural affirmation and institutional critique in photography through the prolific output of young and mid-career artists such as Jeremy Dennis, Sky Hopinka, Dylan McLaughlin, and Cara Romero, along with their generational forebearers, including Shelley Niro, Tom Jones, and Zig Jackson. Brought together, these photographs, videos, three-dimensional works, and digital activations forge a mosaic investigation into identity, resistance, and belonging. Reflecting a wide spectrum of distinct cultures and creative practices, the exhibition is an outgrowth of the Carter's broader collecting initiative dedicated to amplifying Indigenous artists' contributions to the history of photography and American visual identity.
"Furthering our mission to seed critical conversations with the history of American art, the Carter is proud to present this watershed exhibition as a testament to the dedication, rigor, and empathy of the artists, community members, and scholars who have brought it life," said Andrew J. Walker, Executive Director. "Mobilizing the strength of our photography program, we're committed to elevating the voices and innovation of Indigenous artists, and we look forward to supporting the rich scholarship and recognition that the stories centered in Speaking with Light command."
The nearly 100-work exhibition is presented in thematic sections contemplating the camera's role in shaping shared scars and empowerments:
Prelude: State to State: Enmeshing past and present, the exhibition opens with 19th-century photographs from the Carter's Bureau of American Ethnology Collection, which were made in conjunction with treaty negotiations between Indigenous Nations and the U.S. government. These portraits illustrate Indigenous leaders' use of the nascent medium as a tool for projecting power, agency, and dignity through their chosen attire as they posed for U.S. photographers. Amid these compelling images, Will Wilson's "Talking Tintype" portrait of Enoch Haney, former principal chief of the Seminole Nation of Oklahoma, vividly carries these early photographic encounters into the present day, tracing a through line to questions of identity, governance, and sovereignty in the 21st century.
Survivance: In this immersive section, Indigenous photographers use humor, pathos, anger, and declaration to defy erasure and stereotyping. Among many important works demanding recognition of Indigenous existence, rights, and cultural commitment are Hulleah Tsinhnahjinnie's Photographic Memoirs of an Aboriginal Savant (Living on Occupied Land) (1994); Erica Lord's 2005 video work Redman; a complete 15-print portfolio of Wendy Red Star's Accession series (2019) from the Carter's collection; and Nicholas Galanin's large-scale Fair Warning: A Sacred Place - Supernatural Spirits and Animals (2019).
Nation: Magnifying personal experience and assertion of self, this section complicates binaries of belonging and alienation as its works explore the meaning of "home." Artists including Sky Hopinka and Cara Romero celebrate persistence and community, while Kali Spitzer and Kiliii Yüyan confront isolation, poverty, and prejudices against members of the LBGTQ community. Also featured in this section is Kapulani Landgraf's site-responsive reinstallation of 'Au'a (2019).
Indigenous Visuality: The culminating section celebrates photography as a conduit for Indigenous worldviews with works that embrace spirit, myth, and a deep connection with the natural world while negotiating systems of settler colonialism. From Tom Jones's Peyton Grace Rapp (2017) to Erica Lord's Binary Selves (2007) to site-specific installations by Jolene Rickard and Sara Sense, the artists featured here construct a space of belonging in their work while calling on visitors and institutions alike to recognize the vitality of Indigenous objects and outlooks.
Conclusion: The exhibition closes by drawing attention to the global reach of Indigenous visual expression with a hands-on presentation of the online database Indigenous Photograph.
"Through our vast range of lenses—cultural, geographic, generational, and gender—the creators featured in Speaking with Light crystalize a vibrant reclaiming of personal and communal representation," said co-curator Will Wilson. "We invite visitors to lean into discomfort and counter-narratives to access a different understanding of our world—one that provides healthier relationships with each other and the earth. Drawing the institution and its audience into this Indigenous space lays the groundwork for the Carter to become an important site of contemporary Indigenous photography practices and research."
"It's a remarkable experience having so many pivotal voices converge in this complex conversation," said Senior Curator of Photographs, John Rohrbach. "Speaking with Light is a symbol of the vitality of contemporary Indigenous photography, acknowledging the diversity of Indigenous artists who are confronting the story of America with acuteness and passion."
Authored wholly by Indigenous scholars, including Jennifer Nez Denetdale, Dylan Miner, Jolene Rickard, and Paul Chaat Smith, the exhibition's accompanying publication by Radius Books presents a summary statement on the dynamism of Indigenous photography today and fills a critical gap for the field. Speaking with Light: Contemporary Indigenous Photography is organized by the Amon Carter Museum of American Art.
Images (top, left to right): Jeremy Dennis (b. 1990), Nothing Happened Here #10, 2016, inkjet print, Amon Carter Museum of American Art, Fort Worth, Texas, P2021.9, © Jeremy Dennis; Zig Jackson (b. 1957), Indian Man on the Bus, Mission District, San Francisco, California, 1994, inkjet print, Amon Carter Museum of American Art, Fort Worth, Texas, P2021.7, © Zig Jackson Mandan, Hidatsa, Arikara, North Dakota; (bottom): Wendy Red Star (b. 1981), Catalogue Number 1941.30.1, 2019, inkjet print, Amon Carter Museum of American Art, Fort Worth, Texas, P2020.166.5, © Wendy Red Star
About the Carter's Photography Collection
The Carter houses over 45,000 exhibition-quality photographic prints and 250,000 photographic objects, making the Museum one of the country's major repositories of American photography. The holdings span the history of the photographic medium, from one of the earliest daguerreotypes made in this country to inkjet prints being made today. The holdings reflect photography's central role in documenting America's 19th-century culture and history and the medium's development as a significant and influential art form in the 20th century to the present. Throughout its history, the Carter has supported the work of contemporary photographers. In 1979, the Museum commissioned Richard Avedon to create his acclaimed series In the American West, and the collection now holds a complete set of prints from that project. A collaboration in 2013 brought Chicago–based photographer Terry Evans to Fort Worth to document the city's Trinity River. The Museum is also home to the archives and monographic collections of photographers Carlotta Corpron, Nell Dorr, Laura Gilpin, Eliot Porter, Helen Post, Clara Sipprell, Erwin E. Smith, and Karl Struss.
About the Amon Carter Museum of American Art
Located in the heart of Fort Worth's Cultural District, the Amon Carter Museum of American Art (the Carter) is a dynamic cultural resource that provides unique access and insight into the history and future of American creativity through its expansive exhibitions and programming. The Carter's preeminent collection includes masterworks by legendary American artists such as Ruth Asawa, Alexander Calder, Frederic Church, Stuart Davis, Robert Duncanson, Thomas Eakins, Georgia O'Keeffe, Jacob Lawrence, and John Singer Sargent, as well as one of the country's foremost repositories of American photography. In addition to its innovative exhibition program and engagement with artists working today, the Museum's premier primary research collection and leading conservation program make it a must-see destination for art lovers and scholars of all ages nationwide. Admission is always free. To learn more about the Carter, visit cartermuseum.org.