September 05, 2019

Amon Carter Museum of American Art Announces New Installation Inspired by Collection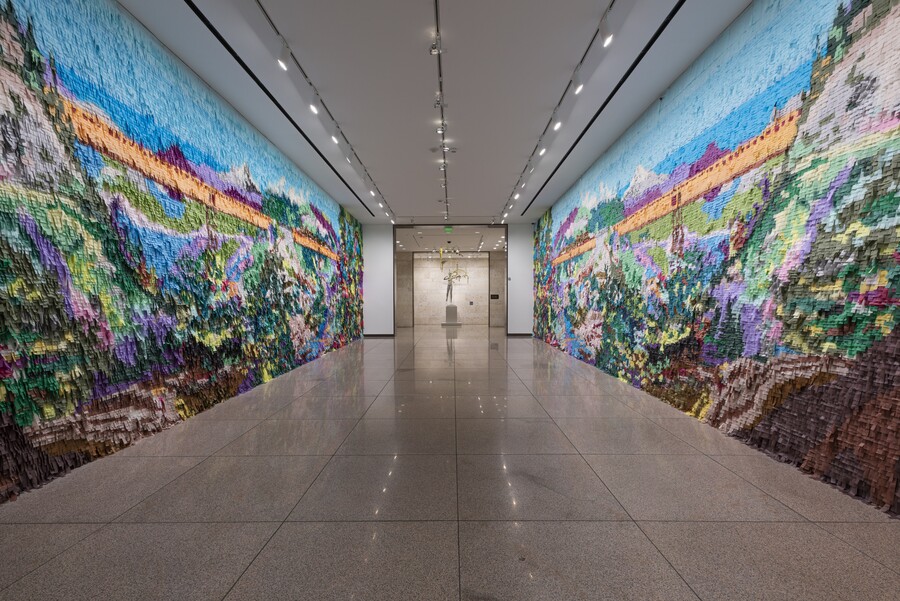 The Carter commissions artist Justin Favela to create installation pieces inspired by works from the museum's collection.
Fort Worth, TX, September 5, 2019—The Amon Carter Museum of American Art presents Puente Nuevo by Justin Favela. Commissioned for the reopening of the Carter, Puente Nuevo is an immersive experience of large-scale artwork made from the materials used to construct piñatas. Carter members will have the exclusive opportunity to witness the artist installing this work through September 13 during our members-only preview days. Puente Nuevo will be on view to the public on September 14 at the museum's grand reopening and free all-day celebration with the community, Party on the Porch.
Justin Favela (b. 1986) is a Mexican- and Guatemalan-American artist based in Las Vegas who explores the commodification of Mexican culture to inspire his artwork, creating sculpture that questions the line between art and everyday life. Favela holds a BFA in sculpture from UNLV and has recently been featured at the Denver Art Museum and the Crystal Bridges Museum of American Art, among many other museums and galleries. His installation in Houston was recently named "Top Five in Texas" by Glasstire.
Favela reinterprets historical artworks in his vibrant installations that serve as his way of connecting past art to the present day. He has covered everything with the vibrant colors of the piñata, from the façade of a motel to a cardboard life-size model of a Chevy Impala lowrider.
"I like to reference art history in a lot of my work as a way not only to celebrate the past but to critique the exclusion of people of color in that very same history," said Favela in the latest issue of Carter Magazine.
For the Carter's commission, Favela drew inspiration from color lithographs of Mexico by Casimiro Castro, a 19th-century Mexican printer who depicts scenes of rural and urban Mexico and, in particular, the development of the railway. Favela titled this commission Puente Nuevo, or "new bridge," based on railway bridges depicted in the Castro prints and the metaphorical bridge of his art connecting past and present. In addition to the immersive murals, Favela will create a sculptural tissue paper tribute to the museum's mobile Untitled (ca. 1942) by Alexander Calder and another work based on Georgia O'Keeffe's Black Patio Door (1955).
"We showed Justin almost every painting and sculpture in the Carter's collection and he told me, 'I have always wanted to make a mobile in tribute to Calder that looks like nachos and nobody will let me do it.' I thought, 'Great! I'm on board!" stated Maggie Adler, Curator of Paintings and Sculpture.
Puente Nuevo is the latest in a series of large-scale, immersive works where the Carter has invited an artist to transform a space, such as Gabriel Dawe's Plexus no. 34, which remains on view. This commission reflects the Carter's ongoing commitment to supporting living artists and exploring the ways that they draw from the past and bring the work of history to life in the present. Puente Nuevo will fill the first-floor gallery that connects the Carter's original 1961 building to the 2001 extension. Visitors can expect to see similar immersive installations in this gallery in the future.
"We found having relevant work by living artists that resonates and connects with our historical collection was a powerful experience in the museum," stated Brett Abbott, Director of Collections and Exhibitions.
Puente Nuevo will open to the public on September 14 during our Party on the Porch event from 10 a.m. to 10 p.m. Carter members will be allowed early access to the exhibition during our Member Preview Days running through September 13. Programs, including programming for families, exhibition celebrations, and more, will be scheduled throughout the run of the exhibition. For dates, prices and details, visit cartermuseum.org.
About the Amon Carter Museum of American Art
Located in the heart of Fort Worth's Cultural District, the Amon Carter Museum of American Art explores the breadth and complexity of American creativity through an important and dynamic art collection. The Carter opened in 1961 to benefit its community by sharing the wonder of American art, fostering the growth of a vibrant cultural spirit, and stimulating everyone's artistic imagination. Housed in a building designed by Philip Johnson (1906–2005), the Carter features one of the great collections of American art including masterworks of painting, sculpture, and works on paper by artists such as Georgia O'Keeffe, Jacob Lawrence, John Singer Sargent, Frederic Church, Thomas Eakins, Grant Wood, Alexander Calder, and Stuart Davis. The Carter is also home to a world-renowned photography collection that spans the history of the medium from the 19th century to today. It is also home to Amon G. Carter Sr.'s collection of nearly 400 works by Frederic Remington and Charles M. Russell, two of the most significant artists of the American West. Admission is free. Open: Tuesday, Wednesday, Friday, and Saturday 10 a.m.–5 p.m.; Thursday 10 a.m.–8 p.m.; Sunday 12–5 p.m. Closed Mondays and select holidays.