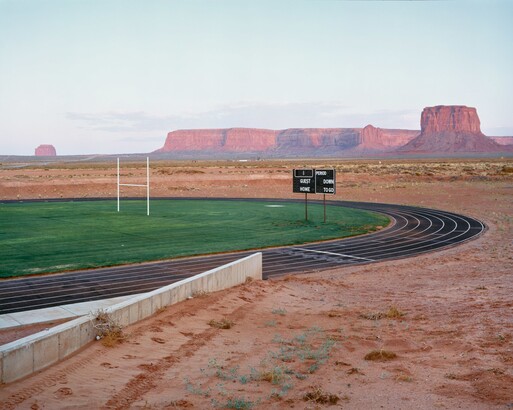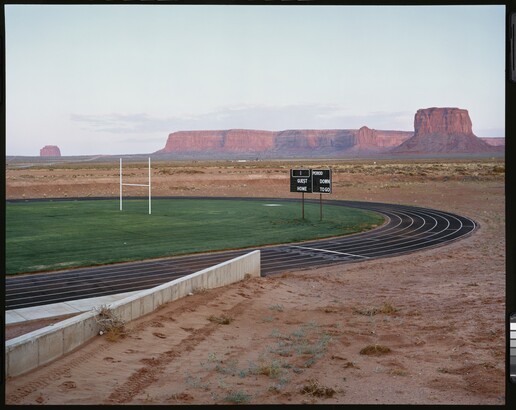 Navajo Monument Valley Tribal School near Goulding, Utah
Object Details
Image: 28 1/8 x 35 3/8 in.
Sheet: 31 7/8 x 41 1/4 in.

print verso:

signed l.l. in ink: A/P Skeet McAuley

Amon Carter Museum of American Art, Fort Worth, Texas, Gift of the artist
Educator Resources
What roles have landscapes played in art history? How has that role stayed the same or changed over time?

What artistic choices does a photographer make when creating an image?

How might a landscape serve as commentary on the relationship between humankind and the environment?

What spaces are important in a community? How might the answer to that question differ depending upon who is answering?

What do you see here?

Identify the discreet elements in this photograph. What descriptive words would you apply to each?

How do the individual elements interact with one another in this photograph? Together, what story do they tell?

Does the title of this photograph, Navajo Monument Valley Tribal School Near Goulding, Utah, impact how you see the image? In what ways?

What inherent contrasts do you see in this photograph?

What action(s) can you imagine happening in the foreground of this photograph? In the middle ground? In the background?

Grades 6–8

Students will create a photograph at school or in their community that depicts the relationship between the natural environment and human uses of that environment. Challenge students to create an image that doesn't include human figures but still evokes human presence.
Amon Carter Disclaimer
This information is published from the Carter's collection database. Updates and additions based on research and imaging activities are ongoing. The images, titles, and inscriptions are products of their time and are presented here as documentation, not as a reflection of the Carter's values. If you have corrections or additional information about this object please email us to help us improve our records.
Every effort has been made to accurately determine the rights status of works and their images. Please email us if you have further information on the rights status of a work contrary or in addition to the information in our records.