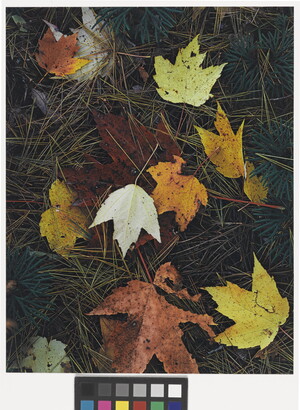 Maple Leaves and Pine Needles, Tamworth, New Hampshire, October 3, 1956
Object Details
Image: 10 7/16 x 8 3/16 in.
Mount: 20 x 15 in.

Mount, Verso:

u.l. [stamp]: PHOTOGRAPH \ By \ ELIOT PORTER \ No. [in ink]: 56-307 \ [stamp]: Title [in ink]: Maple Leaves \ Tamworth, N.H.

Amon Carter Museum of American Art, Fort Worth, Texas, Bequest of the artist

© 1990 Amon Carter Museum of American Art
Educator Resources
Why might an artist incorporate science or technology into their artistic process?

How does nature inspire and/or support creativity and innovative thinking?

How do artists use scale to highlight or emphasize elements in their works of art?

How might an artist advocate for environmental conservation with their work?

What do you see here? Imagine touching the leaves or holding them in your hand. How do they feel? How would you describe their texture?

How did the artist make this work of art? What do you see that makes you say that?

What has the artist chosen to focus on in this image? What do we not see? Why do you think he chose to focus on this limited area?

What colors do you see in this photograph? Eliot Porter was described as the "master of nature's color." What we are seeing here is a process called "dye imbibition." Though this process was very complicated, it allowed Porter to control the exact hues of each final print in ways not possible until the invention of digital technologies. What do you think that process might have looked like? What resources were available to him at that time this photograph was created in the mid-1950s? Which resources did he have to provide for himself?

After separating out three primary colors (red, green, and blue) of his original transparencies, Porter recombined their color complements (cyan, magenta, and yellow), literally transferring these colors one at a time onto a special gelatin-covered paper. How is this different from the way most photographs are produced today?

Grades Pre-K–3

Show laminated images of leaves in different seasons. Have students identify the season depicted and explain how they were able to determine the season. If time permits, you may also ask students to think about how each season feels, the appropriate clothing to wear, and the kinds of activities they do with friends or family in each season.

Get students engaged in imaginative and kinesthetic play. Students will pretend they are outside playing in leaves. Students will use their imaginations to pretend to gather leaves and make a pile. Then they will pretend to jump into their pile of leaves. Have students squat all the way down and reach their hand up to the sky or jump up in place. If space permits, have students lie on the ground and roll left and right or simply move their arms in a circular motion.

Students will create an artwork with leaves. Demonstrate each step of the activity for the students. Place a leaf on top of the paper. Then, take the color stick and hold it like it is "awake" (vertical). Now, trace around the leaf. After tracing the leaf, place it under the paper. Now make the color stick "go to sleep" (horizontal) and use it to color in the leaf. See the bumps and texture of the leaf appear on the paper. Students can do this multiple times with various colors.

All Levels

Students will research artists, scientists, or inventors who were inspired by nature. What was their inspiration? What did they create? Then students will find an element of nature to inspire their own creation.
Amon Carter Disclaimer
This information is published from the Carter's collection database. Updates and additions based on research and imaging activities are ongoing. The images, titles, and inscriptions are products of their time and are presented here as documentation, not as a reflection of the Carter's values. If you have corrections or additional information about this object please email us to help us improve our records.
Every effort has been made to accurately determine the rights status of works and their images. Please email us if you have further information on the rights status of a work contrary or in addition to the information in our records.