Mythmakers:

The Art of Winslow Homer and Frederic Remington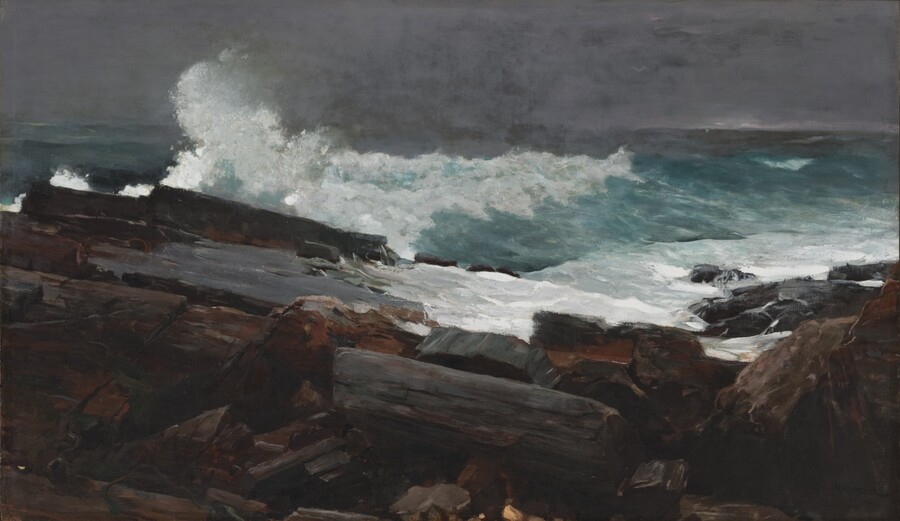 American icon Winslow Homer, famous ocean painter, joins Frederic Remington, legendary cowboy artist, for Mythmakers: The Art of Winslow Homer and Frederic Remington, the first exhibition to explore the unexpected resonances and moments of convergence between the themes, artistic sensibilities, and technical processes of these two artists.
Homer and Remington were touted by turn-of-the-century critics as artists whose work reinforced an American identity rooted in action, independence, and communion with the outdoors. While both artists actively cultivated this reputation, the correlation between these two icons has never been considered in depth due to the perceived differences in their subject matter.
Slide Controls
Slides
Snap the Whip
Winslow Homer 1872
oil on canvas

Sharpshooter
Winslow Homer 1863
oil on canvas

Weatherbeaten
Winslow Homer 1894
oil on canvas

The Stampede
Frederic Remington 1908
oil on canvas

The Buffalo Runners—Big Horn Basin
Frederic Remington 1909
oil on canvas

Fight for the Waterhole
Frederic Remington 1903
oil on canvas
Mythmakers: Winslow Homer and Frederic Remington is organized by the Amon Carter Museum of American Art, the Denver Art Museum, and the Portland Museum of Art, Maine. The national tour sponsorship is generously provided by Bank of America. This exhibition is supported by an indemnity from the Federal Council on the Arts and the Humanities; by the National Endowment for the Humanities: Exploring the human endeavor; and by the Wyeth Foundation for American Art.

The Carter's presentation of Mythmakers is generously supported by the Mr. and Mrs. Raymond J. Horowitz Foundation for the Arts and the Alice L. Walton Foundation Temporary Exhibitions Endowment.